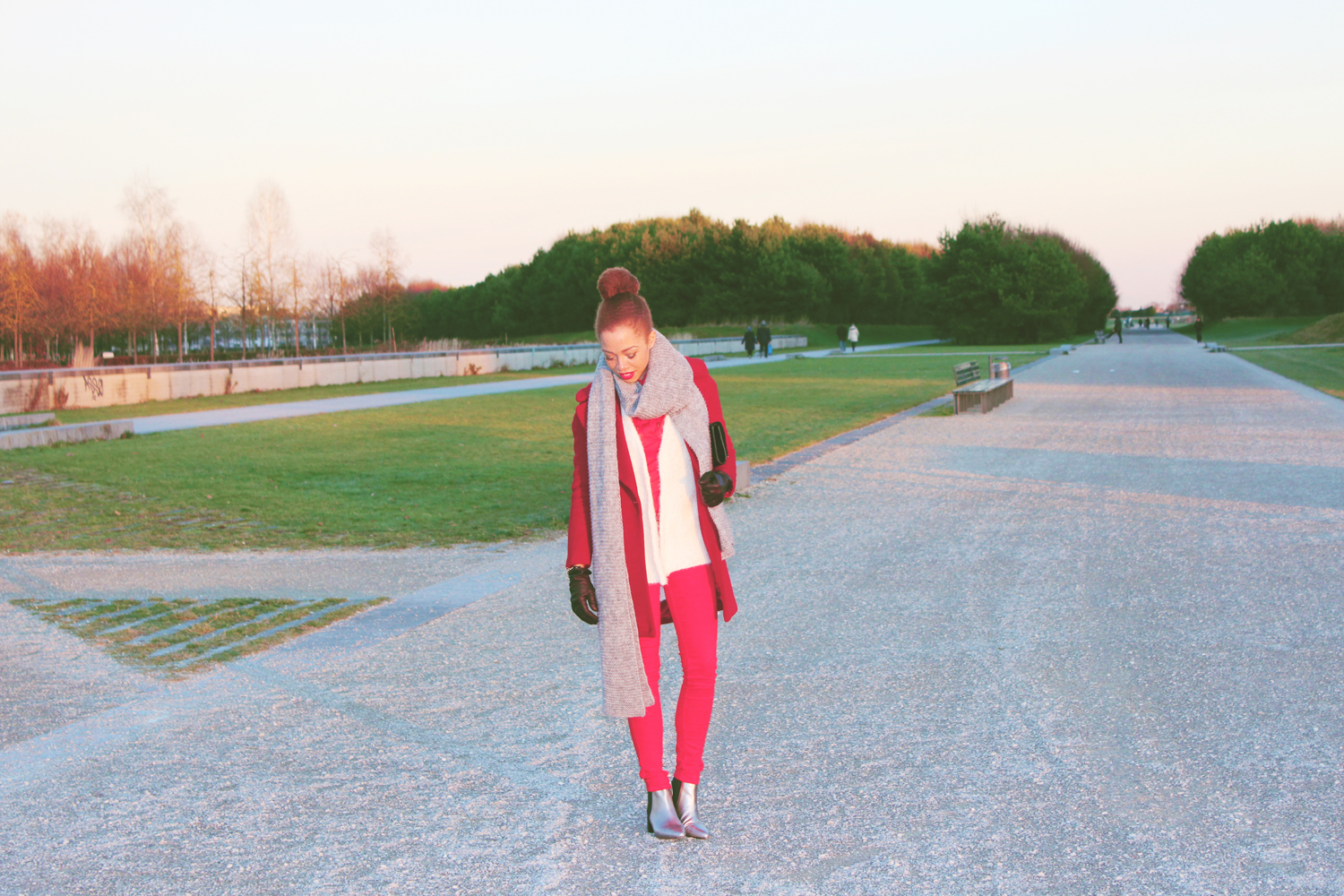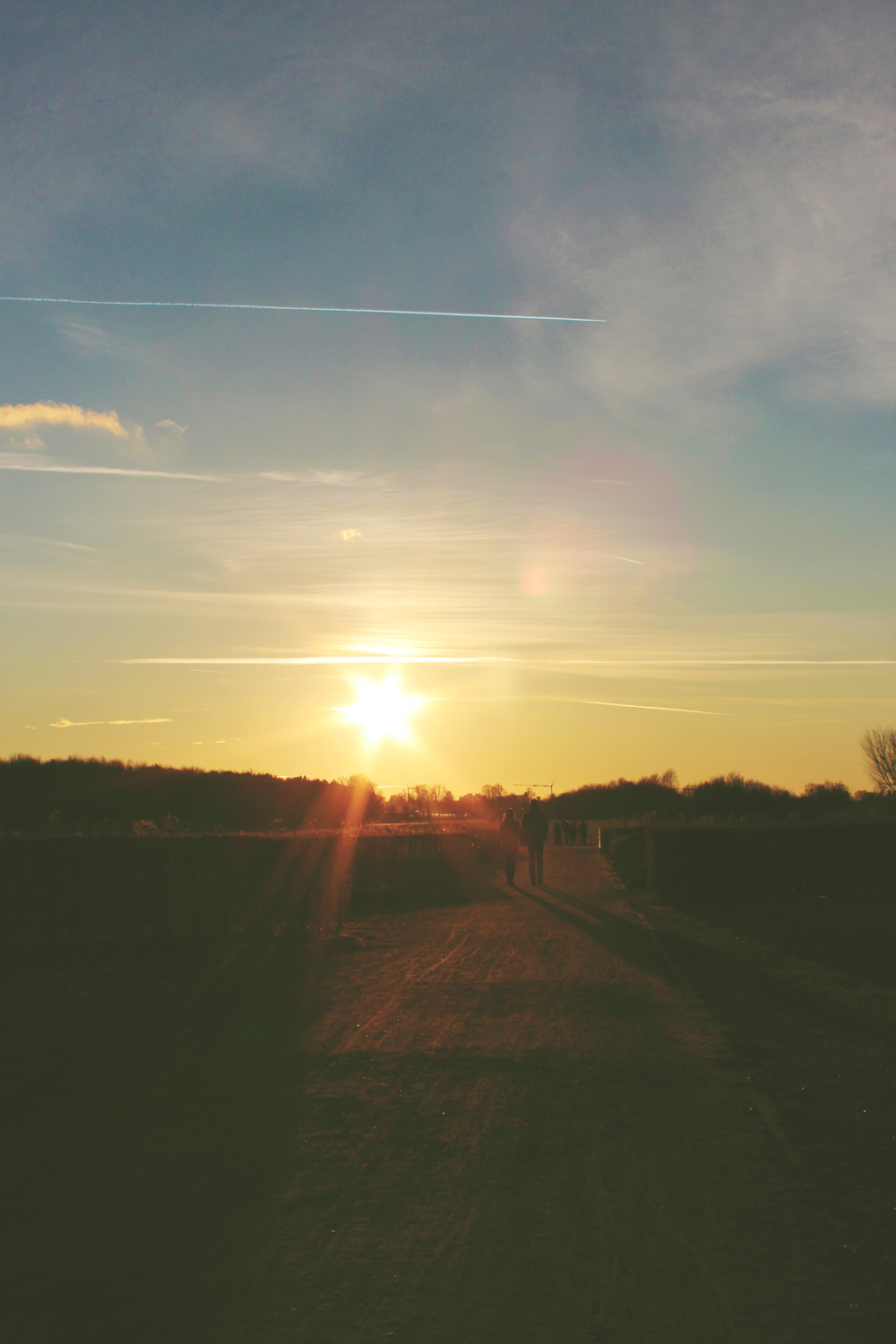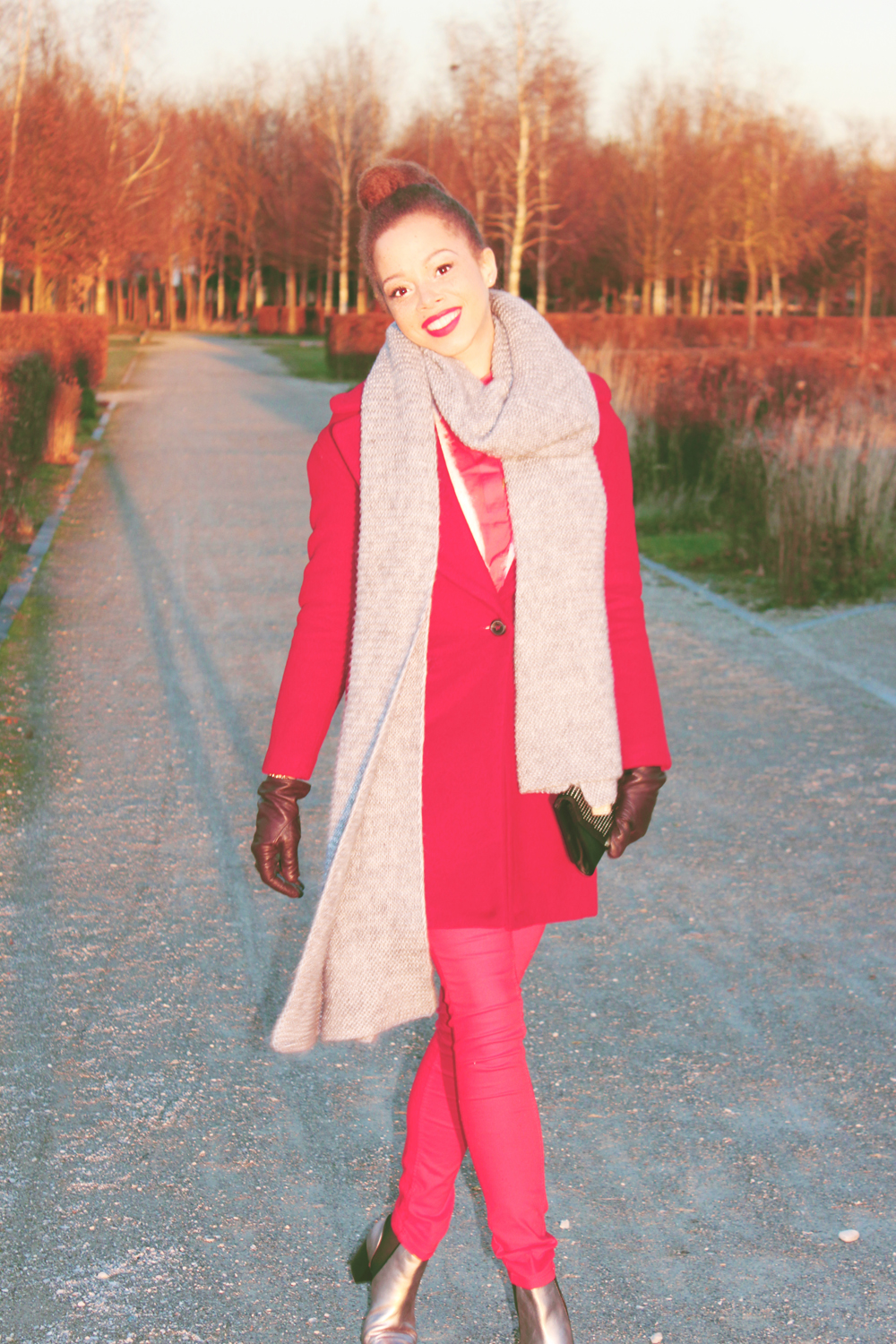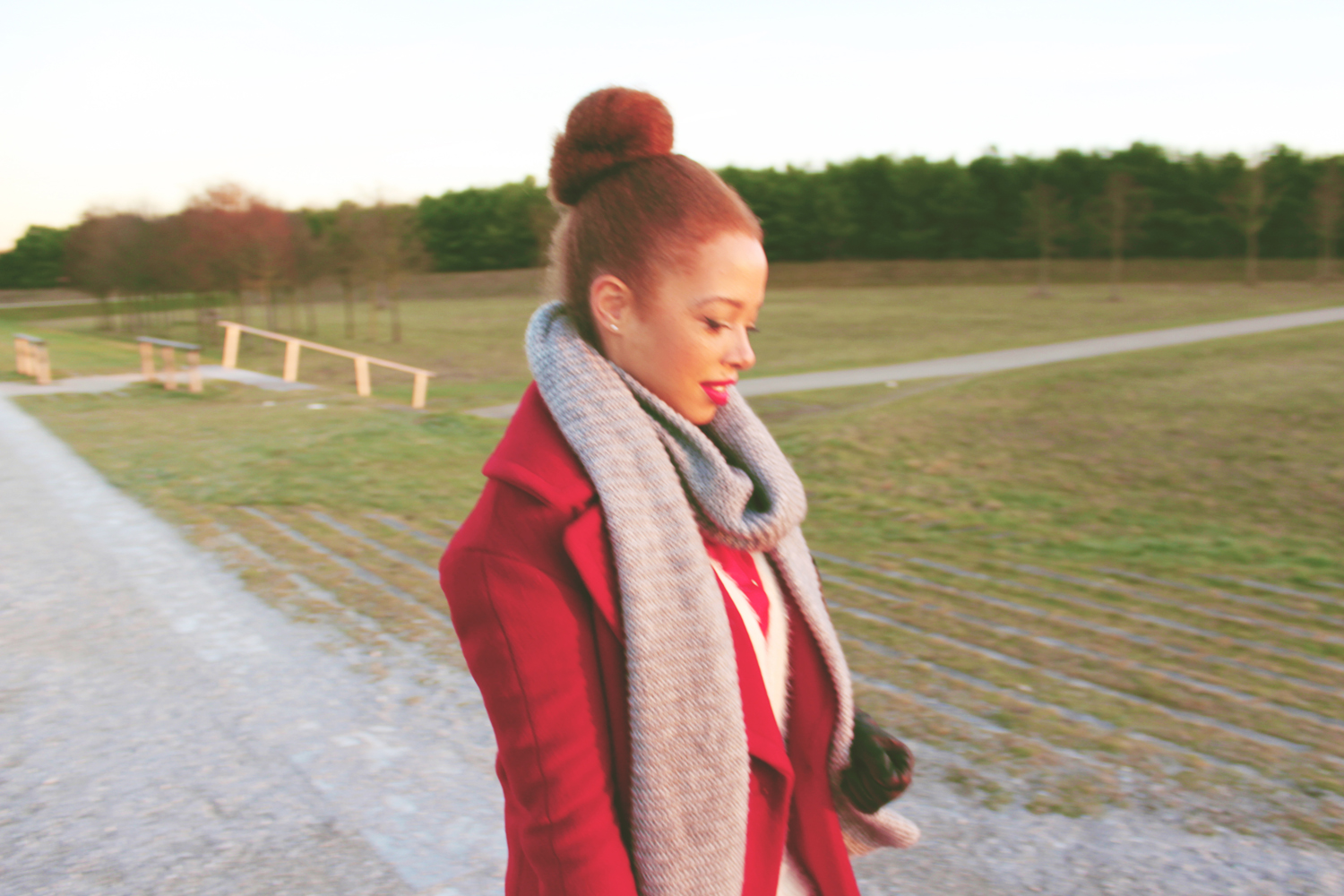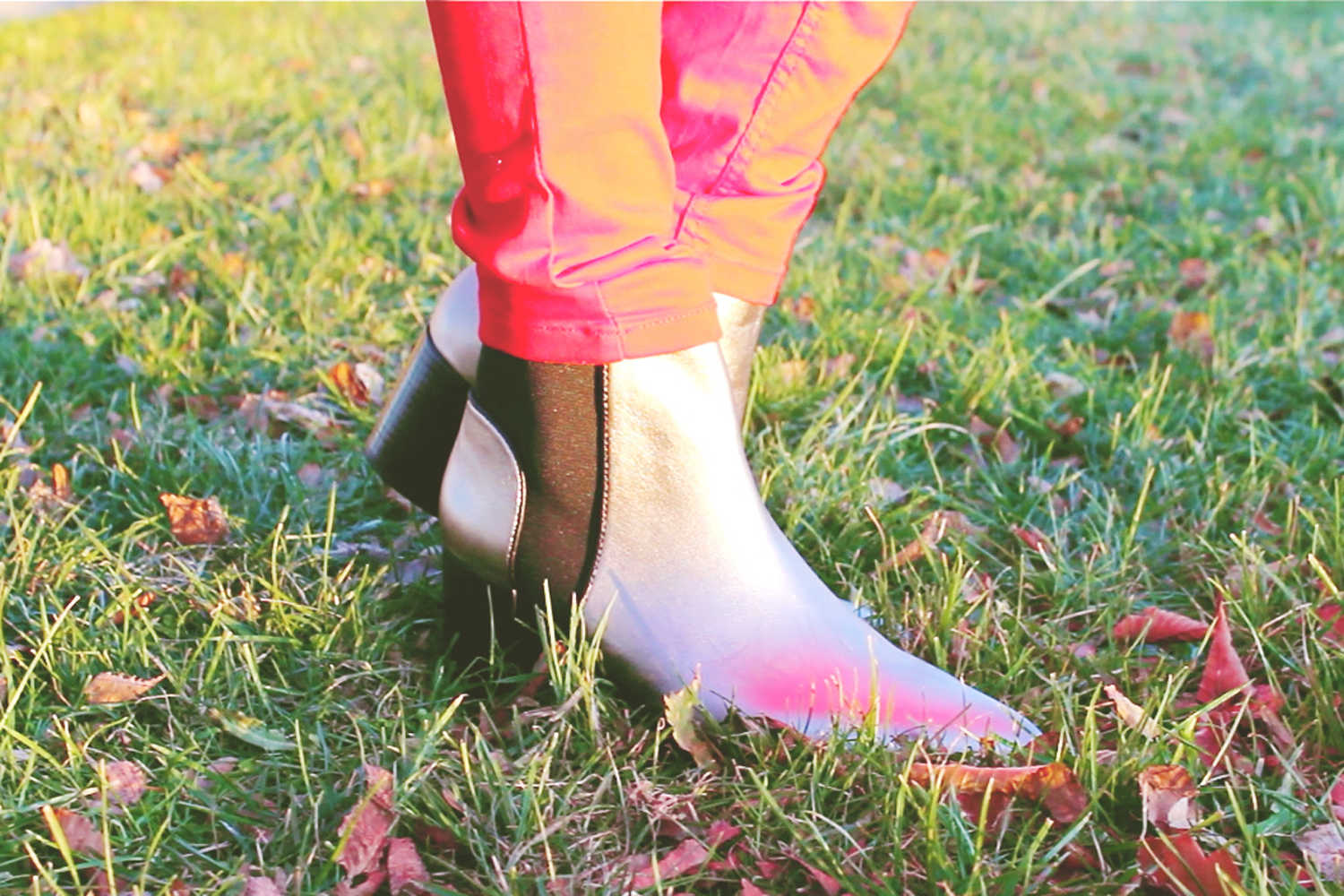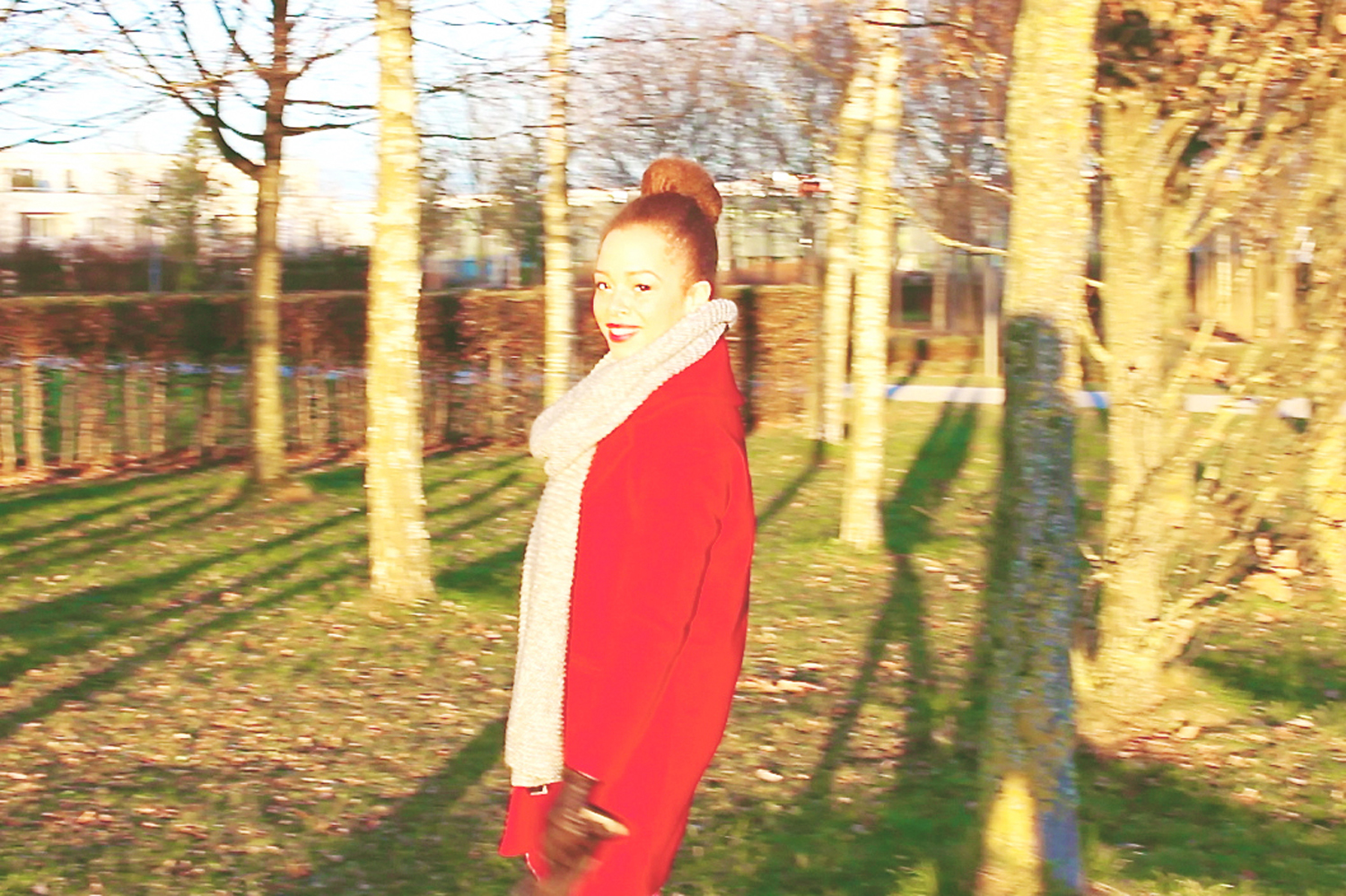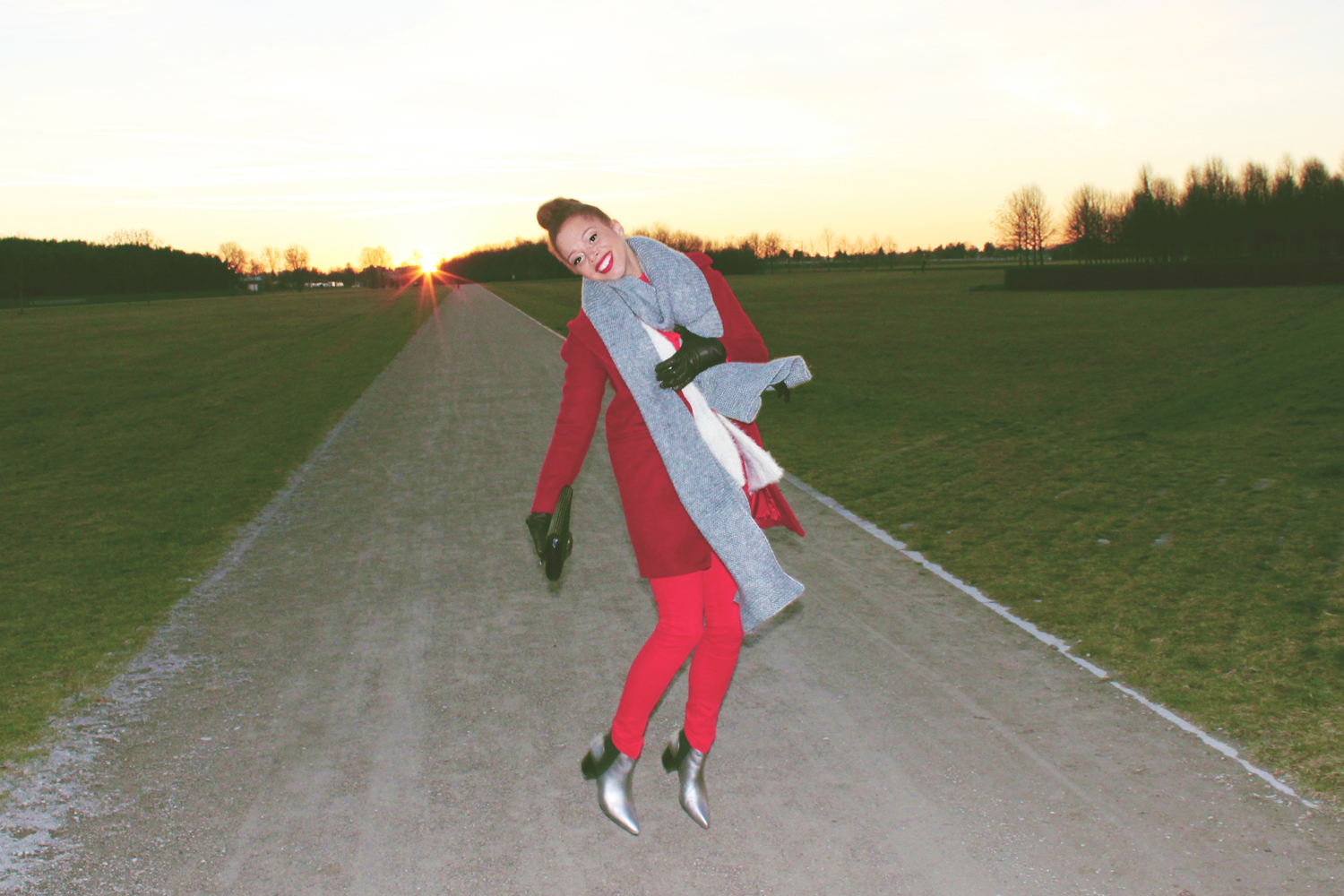 ---
Frohes Neues Jahr 2014!
Die Blätter fallen von den Bäumen, der Wind braust … und plötzlich ist unsere Welt in warme und wilde Farben getaucht. 'Der Herbst ist der zweiter Frühling, in dem jedes Blatt eine Blume ist.' hat der Schriftsteller Albert Camus mal gesagt. Und ich bin ganz seiner Meinung. Ich habe immer das Farbenspiel des Winds während dieser Zeit geliebt und als Kind konnte ich mich nie zurückhalten, wenn ich einen Blätterhaufen gesichtet habe. Da bin ich dann glücklich reingesprungen. Dieses Jahr hab ich Glück! Die Herbstgefühle darf ich noch ein bisschen länger genießen. Das neue Jahr hat zwar schon begonnen, aber wie es scheint hat Frau Holle verschlafen. Keine Schneeflocke in Sicht! Solange können wir ja noch ein bisschen die letzten Herbsttage genießen.
Rotkäppchen?
Bei meinem Abendspaziergang hatte ich Lust auf die Farbe des Sonnenuntergangs – rot! Ich hab mich für eine rote Kombi aus H&M leuchtend roter Skinny Jeans und Satinbluse und meiner kuscheligen weißen Strickjacke entschieden. Schnell noch in die silbernen Chelsea Boots und in meinen geliebten neuen roten Wollmantel geschlüpft, grauer Maxischal und meine braunen Lederhandschuhe – und raus an die Sonne!
---
(Engl.)
Happy New Year 2014 Beauties!
Leaves fall down, the wind roars … and suddenly our world is bathed in warm and wild colours. 'Autumn is a second spring when every leaf is a flower', author Albert Camus once said. And I think he was right. I've always loved the colours of the wind during that time of the year and as a child I couldn't deny myself from jumping happily into every pile of leaves. Lucky me – this year I dared to enjoy the charms of the season even a little bit longer! The new year has just begun but it seems as if Mother Hulda with her snow flakes hasn't arrived yet. So let's enjoy together the last days of Mr. Late Autumn!
It's All Vibrant Red!
To catch the sunbeams of the setting sun during my evening walk, I felt like going for vibrant red that day and decided to combine some skinny but comfy H&M vibrant red skinny jeans with an isochromatic satin blouse and a cosy white cardigan. Finally I slipped into my silvery chelsea boots, my brown leather gloves and whipped on my beloved red wool coat with a fluffy grey scarf (the latter both found in sale).
'I crossed the street to walk in the sunshine.'Eat Pray Love, Elizabeth Gilbert
---
Roeckl | Gloves, ZARA | Wool Coat, Chelsea Boots, Scarf, HM | H&M Vibrant Red Skinny Jeans, Cardigan, Satin Blouse
January 2014