Hey ihr Lieben, es ist Freitag! Diese Woche hatte ich eine Art "Frühjahrsputz" im Sommer. Alles ging drunter und drüber und ich musste erstmal alles unter einen Hut bekommen. Ich bin die Tage wieder am Schreiben und Looks shooten für euch und den Blog und ich freu mich so sehr und es macht mir so viel Spaß, wieder aus meiner Pause zurück zu sein! :) Habt ihr besondere Wünsche, was ihr demnächst mal auf FATIMAYARIE.COM lesen möchtet? Schreibt mir gerne Nachrichten in die Kommentare, ich freu mich immer über euer Feedback!
Über Leoparden und Zebrastreifen
Heute gibt es auf dem Blog einen typischen August-Sommer-Look … ja, der August macht nämlich wie der April – mal dieses Jahr wieder was er will ;) Meine blaugrau und weiß gestreiften Shorts von See By Chloe kombiniere ich zu einem blauen Herrenhemd, pastellweißen Platform Slippern. Und für die kälteren Tage habe ich mir dazu eine luftige Sonia Rykiel Bomberjacke in Leopardenprint übergeworfen. Klar, die Sonnenbrille darf auch im Wild Summer natürlich nicht fehlen!
Was meint ihr?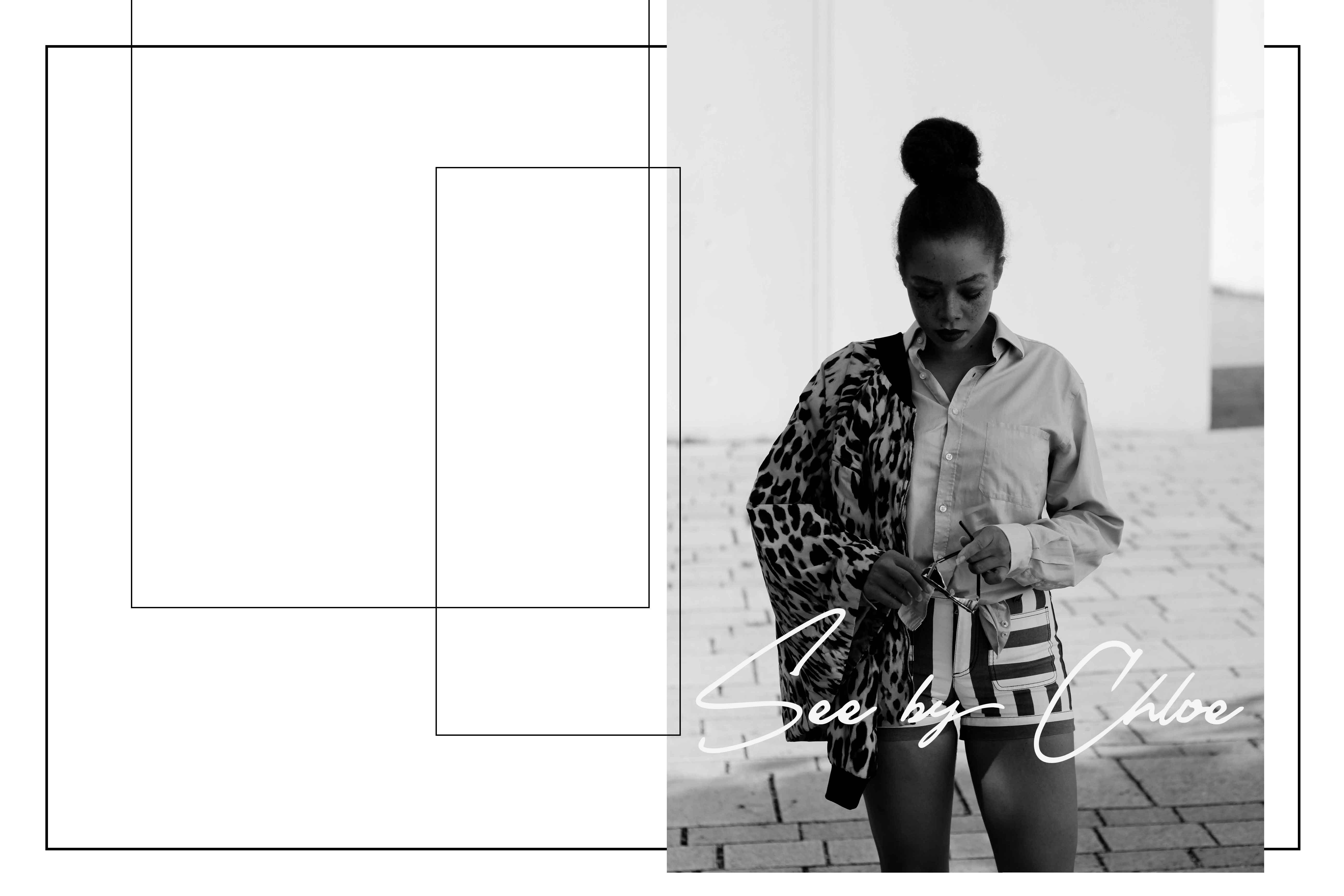 ---
(Engl.)
Hey Loves, how are you? It's Friyay! This week so many totally unexpected things happened. So first, I had to do a little "summer cleaning" to get everything back on track. These days I am writing for you on the blog, doing shoots for you guys and I am so happy and it's so much fun to do this and to be back from my blog pause! :) Do you guys have any kinds of wishes, what you'd like to see or read on FATIMAYARIE.COM? Then please write them in the comments, I'm always happy about your feedback!
See By Chloe Striped Shorts
Today's summerly look is so typical for the month of august… it's hot and cold at the same time ;) I've combined my See By Chloe striped shorts in blue grey and white stripes with a blue mensshirt, pastel white platform slippers. For the colder days I've whipped on a loose leopard print bomber jacket by Sonia Rykiel. And of course, we won't miss our sunglasses!
What do you think?
---
See By Chloe | Shorts, Sonia Rykiel | Leopard Bomber Jacket, Roy Robson | Mensshirt, Zara | Sunglasses, C&A | Platform Slipper