Hair on fleek? Bei den kalten Temperaturen ist oft nicht nur unser Outfit eine Herausforderung. Dass es mir da ganz genau so geht, seht ihr im heutigen Look. Die Haare sitzen eben nicht immer so, wie man möchte. ;) Wenn man aber lange Haare hat und sie trotz Wind und Wetter doch mal offen tragen möchte? Dann hab ich einen kleinen Tipp: nehmt sie einfach auf eine Seite und haltet sie zur Not mit einer Hand hinter dem Kopf fest. Eh voilà, so kommt ihr auch im Winter sicher ohne haarige Zwischenfälle an!
White, White, Winter
Auch wenn wir uns in den letzten Wochen in München bei 10 Grad plus schon fast wieder wie im Sommer gefühlt haben – immerhin, in den Bergen liegt ja immer noch weißer Schnee. Passend dazu hab ich mich mit ganz viel weiß eingedeckt. Weiße Bomberjacke, weiße Stricksocken, weiße Slipper. Okay, die Schuhe sind noch aus der letzten Saison. Lassen sich aber ganz einfach mit dicken Socken für die Winterzeit aufpeppen. Das ist ein Trick, den ihr auch auf eure Lieblingssneaker anwenden könnt! So stehen eure Babies nicht den ganzen Winter über in der Ecke.
… And The Looney Tunes!
Und on top die Looney Tunes Minaudière! Da haben wir ihn also wieder, den kleinen Hingucker. Habt ihr als Kind auch die Cartoons angeschaut? Schweinchen Dick zu seinen besten Zeiten. Eine Minaudière ist eine kleine Abendtasche aus festem Metall, meist rund oder scharfkantig mit einem verschiebbaren Verschluss. Gewusst? Ich davor nicht. Wieder mal was dazu gelernt!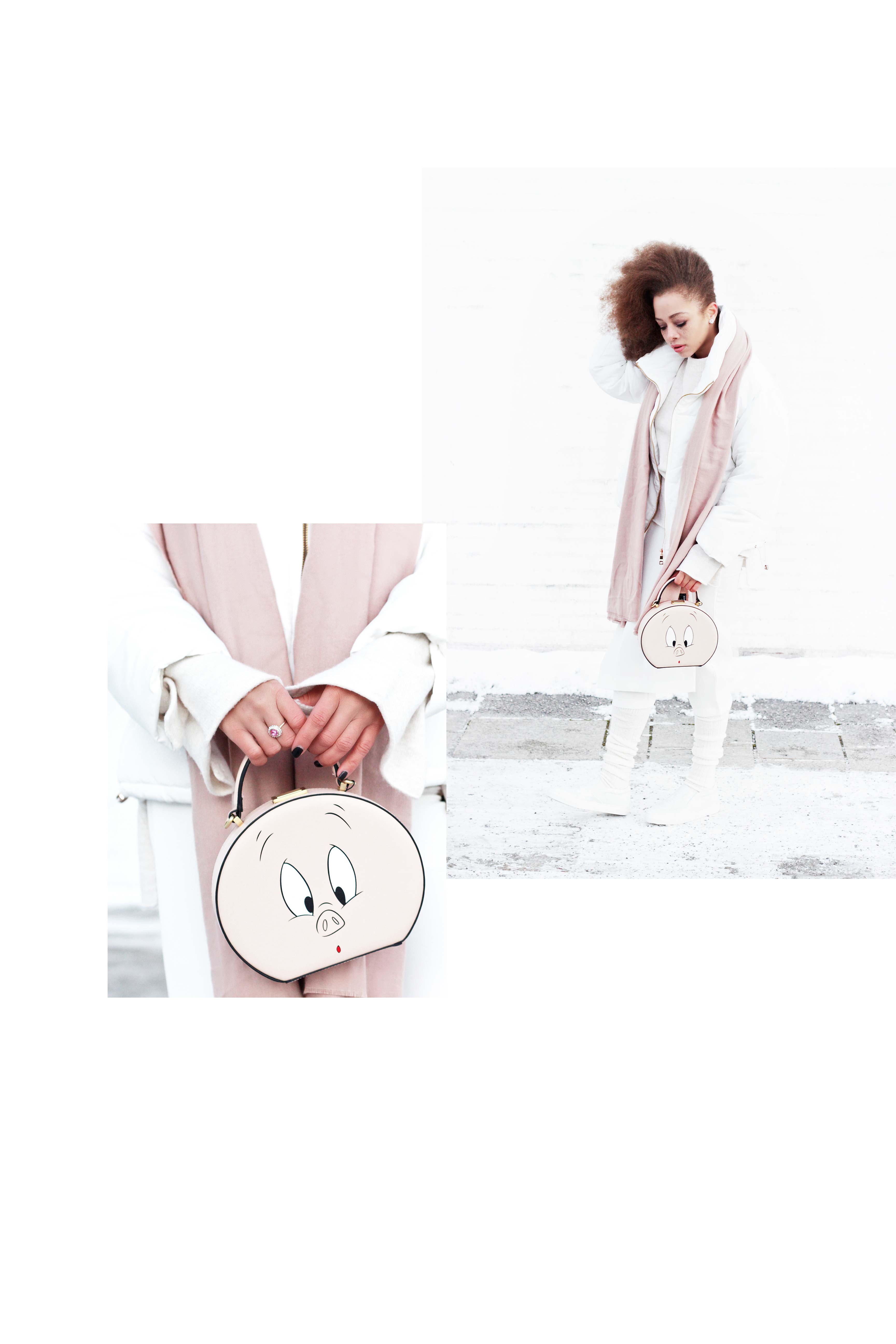 (Engl.)
Hair on fleek? Facing those cold temperatures, our outfit is not the only thing that is challenging sometimes. Just watch me in today's look! My hair isn't always on fleek like I want it to be. ;) But what if you'd like to live on the wild side sometimes like me and wear your longer hair open in all weathers? Then I have a little tip for you: take your hair to one side and if it's necessary, just fix it with one hand. Eh voilà, you will get safely to your destination without any hairy incidents!
Mother Hulda Wears
Although we almost felt like summer the last weeks in Munich at 10 degrees – at least there is still white winter wonderland in the mountains. In the line with this I've stocked up with lots of white. White bomber jacket, white knitted socks, white slipper. Okay, the shoes are from the last season. But you can easily pep it up for winter with thick socks. That is a hack that you can apply to your favorite sneakers as well! Nobody puts Baby in a corner!
… The Looney Tunes Minaudière
And on top the Looney Tunes minaudière! There we have it, the little eyecatcher. Did you also watch the cartoons as a child? Porky Pig at its best. A minaudière is a little evening clutch in solid metal, often round or edgy with a slidable closure. Did you know that? I didn't. Learned something new again!
---
Boohoo | Culottes, H&M | Socks, C&A | Slipper, I Am | Ring, Zara | Bomber Jacket, Sweater With Loop Sleeves, Minaudière Bag