Manche Sachen im Leben sind keine Überraschung. Aber einfach zu schön um wahr zu sein und müssen deshalb nochmal festgehalten werden – im Sale macht man einfach immer noch die besten Schnäppchen!
The Feather Bag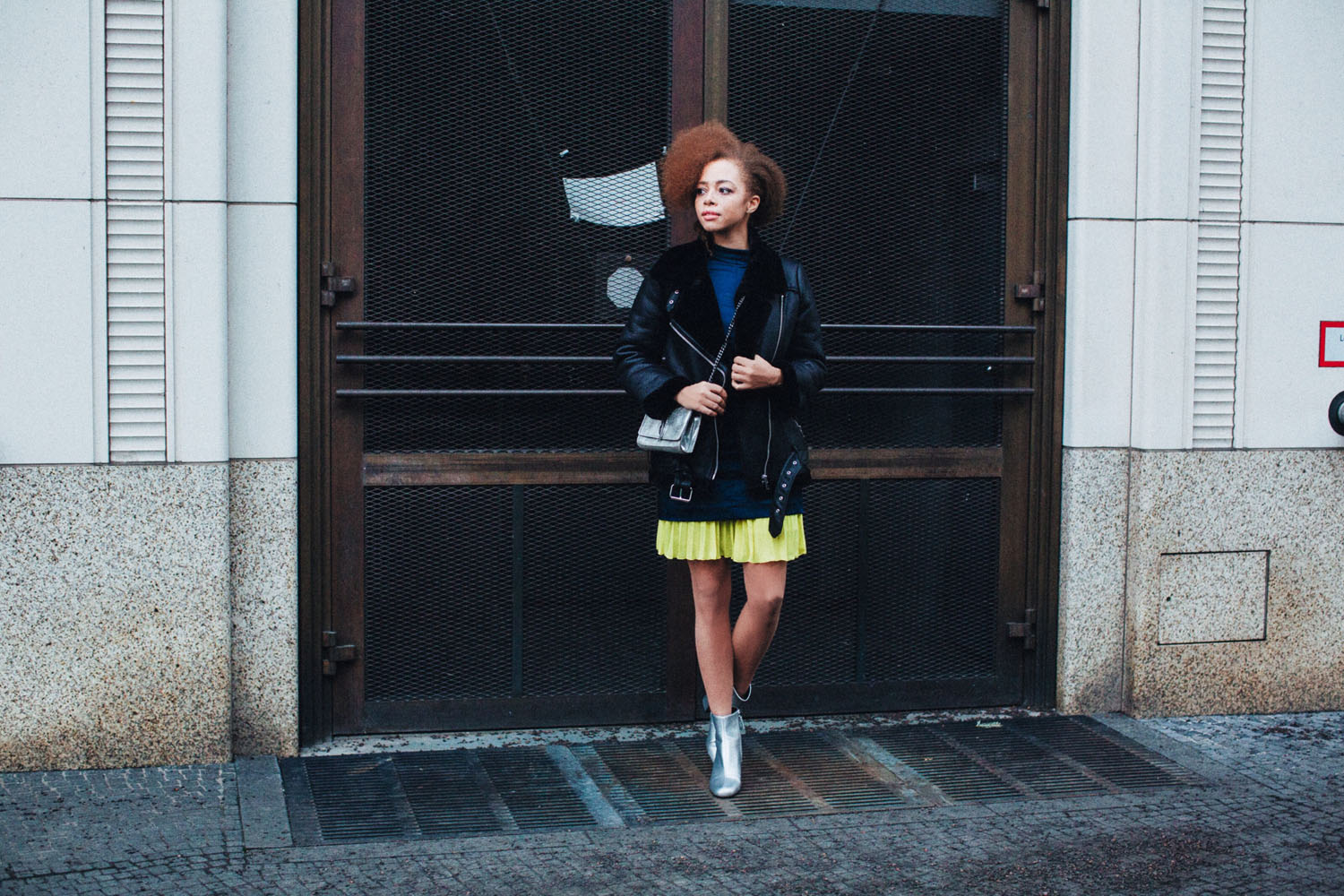 Photography By Michael Colella
Das Outfit, das ich am dritten Fashion Week Tag in Berlin im Januar getragen habe und super zum Frühlingsanfang passt, war zum Beispiel ein solches Schnäppchen. Geshootet wurden die Bilder von dem tollen Fotographen Michael Colella für dm und ihre Marke trend IT UP im Rahmen der HashMAG Blogger Lounge (hier geht's zum Post), was sehr viel Spaß gemacht hat! Die Sonne war schon fast untergegangen und wir haben noch schnell die letzten Sonnenstrahlen des Tages eingefangen.
dm trend IT UP
Das Outfit hatte ich fast vollständig um bis zu 70% reduziert im Sale geshoppt. Ohne Jacke. Aber mit Tasche. Und auch mit Schuhen. Glaubt ihr nicht? Ich rechne es euch vor. Kleid, rückenfrei und mit Trompetenärmeln: ca. 20 Euro. Chelsea Boots: ca. 20 Euro. Kleine Crossbody mit silbernem Federdetail: ca. 20 Euro. Strumpfhose: ca. 2 Euro.
Sale, Sale, Sale
Haha ja, ich bin eine Schnäppchenjägerin. Und ich stehe nicht nur dazu – ich liebe es! Den Kick, wenn man mal einen Riesenfang gemacht hat, kennen bestimmt nicht nur die Mädels. Gebt es zu! Man fühlt sich wie der King. Oder die Queen. Egal, auf jeden Fall hat man seinem Geldbeutel und sich selbst etwas Gutes getan. Ja, wir dürfen uns hin und wieder auch mal was gönnen! Und am liebsten doch im Sale. Oder? ;)


---
(Engl.)
Some things in life that are no surprise. But just too good to be true and therefore have to be celebrated once more – in sale you really can make the best snatch!
The outfit that I have worn at the third day of Berlin Fashion Week in January is the perfect start into the spring season and more so such a snap! The pictures were shot by the great photographer Michael Colella for dm and their brand trend IT UP at HashMAG Blogger Lounge (read the post here), which was lots of fun! The sun was almost set and we've quickly captured the last sunbeams of the day.
dm trend IT UP
I've shopped almost the complete look up to 70% off in sale Without the jacket. But with the bag. And with the shoes. You don't believe me? I'll show you. Dress, backless and with trumpet sleeves: ca. 20 Euro. Chelsea Boots: ca. 20 Euro. Zara silver feather bag: ca. 20 Euro. Tights: ca. 2 Euro.
Sale Makes The World Go Round
Haha yes, I'm a bargain-hunter. I don't only stand by that – I love it! The thrill when you've made the real hot deal – not only the girls know what I'm talking about. Time to confess! You end up feeling like the king. Or the queen. Doesn't matter, anyway you've done yourself some good and your wallet as well. Yes, we're allowed to spoil ourselves from time to time! And best in sale. Right? ;)
---
Photography By Michael Colella
Cos | Pleated Skirt, dm | Tights, Zara | Dress, Chelsea Boots, Crossbody Bag, Faux Fur Jacket.