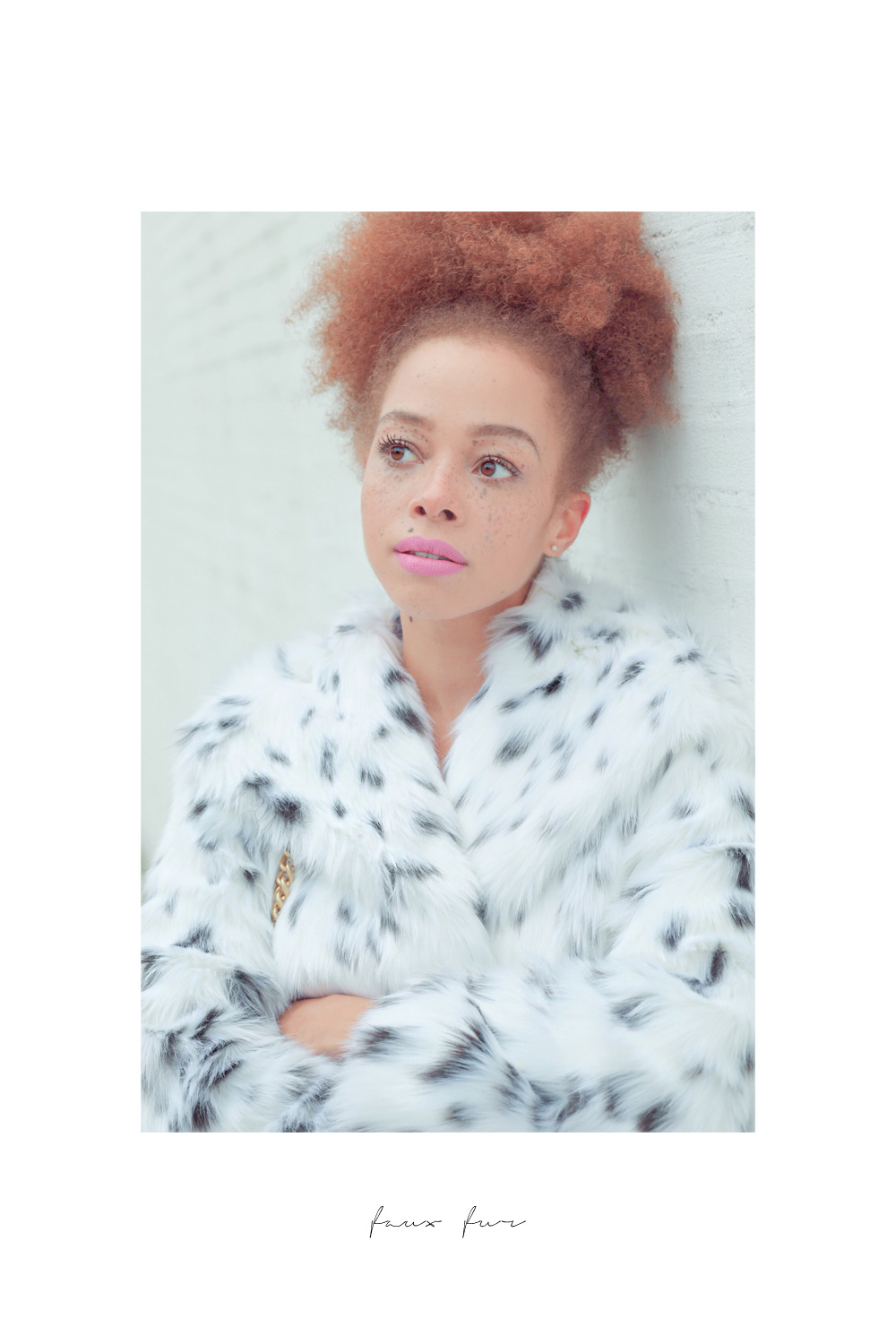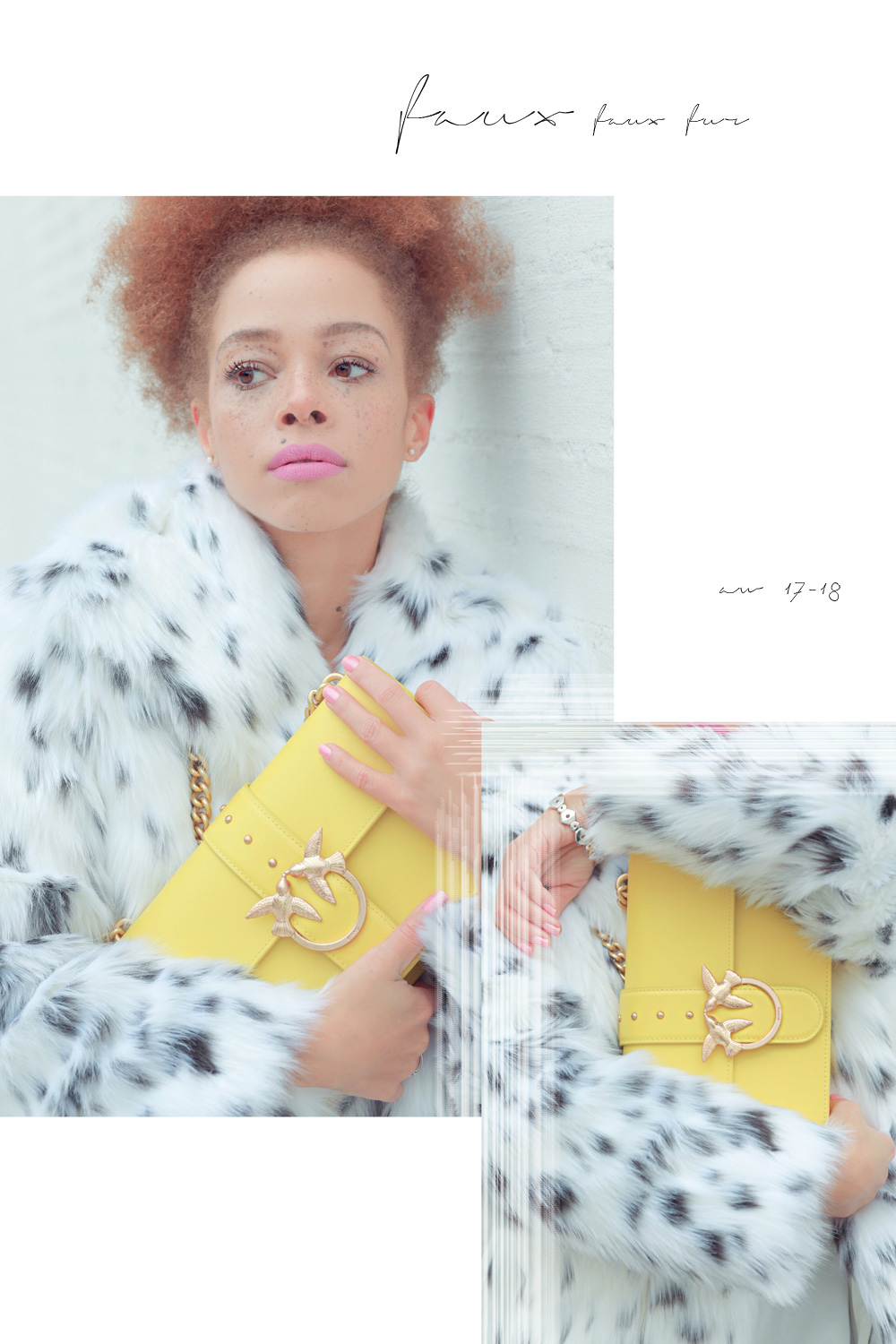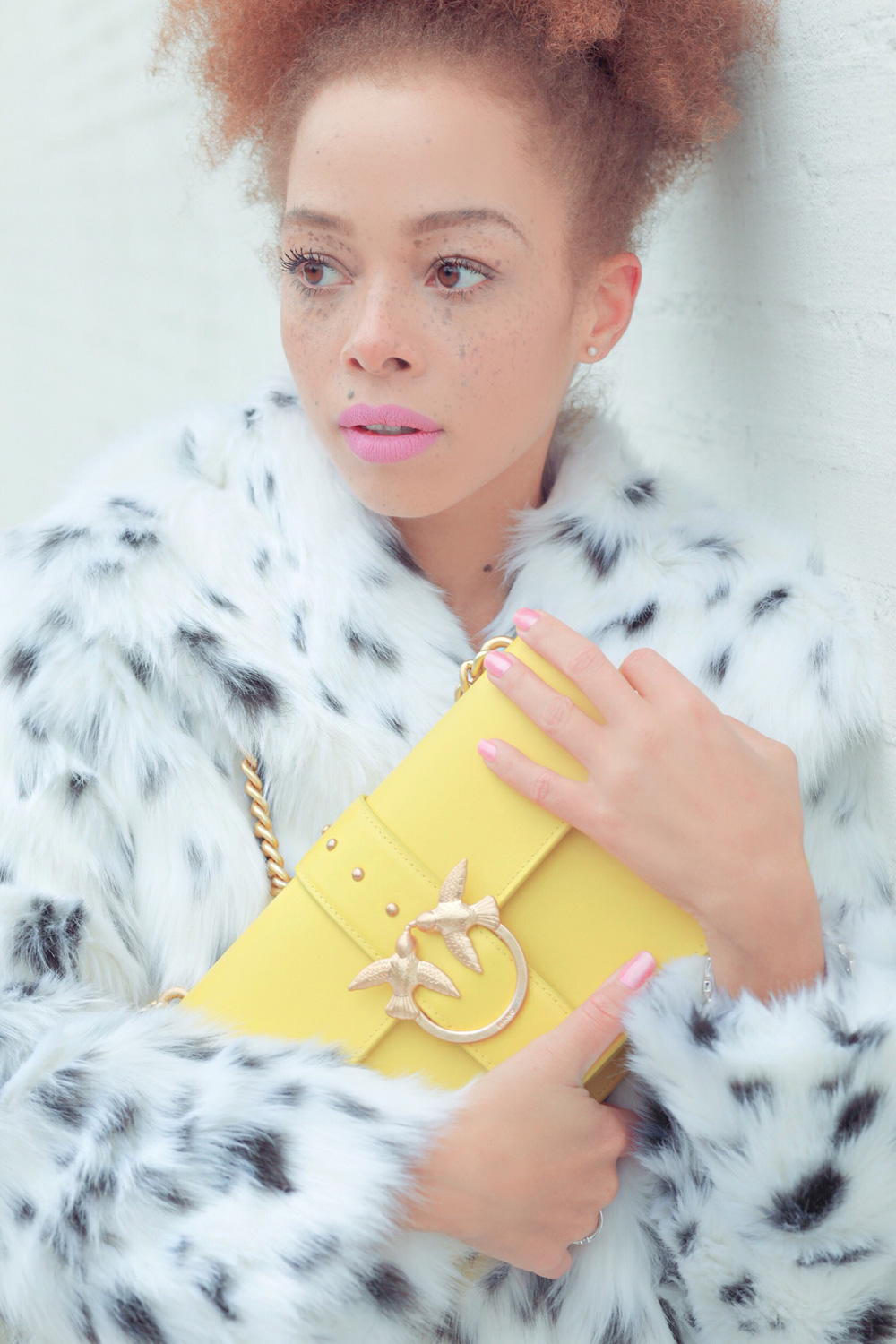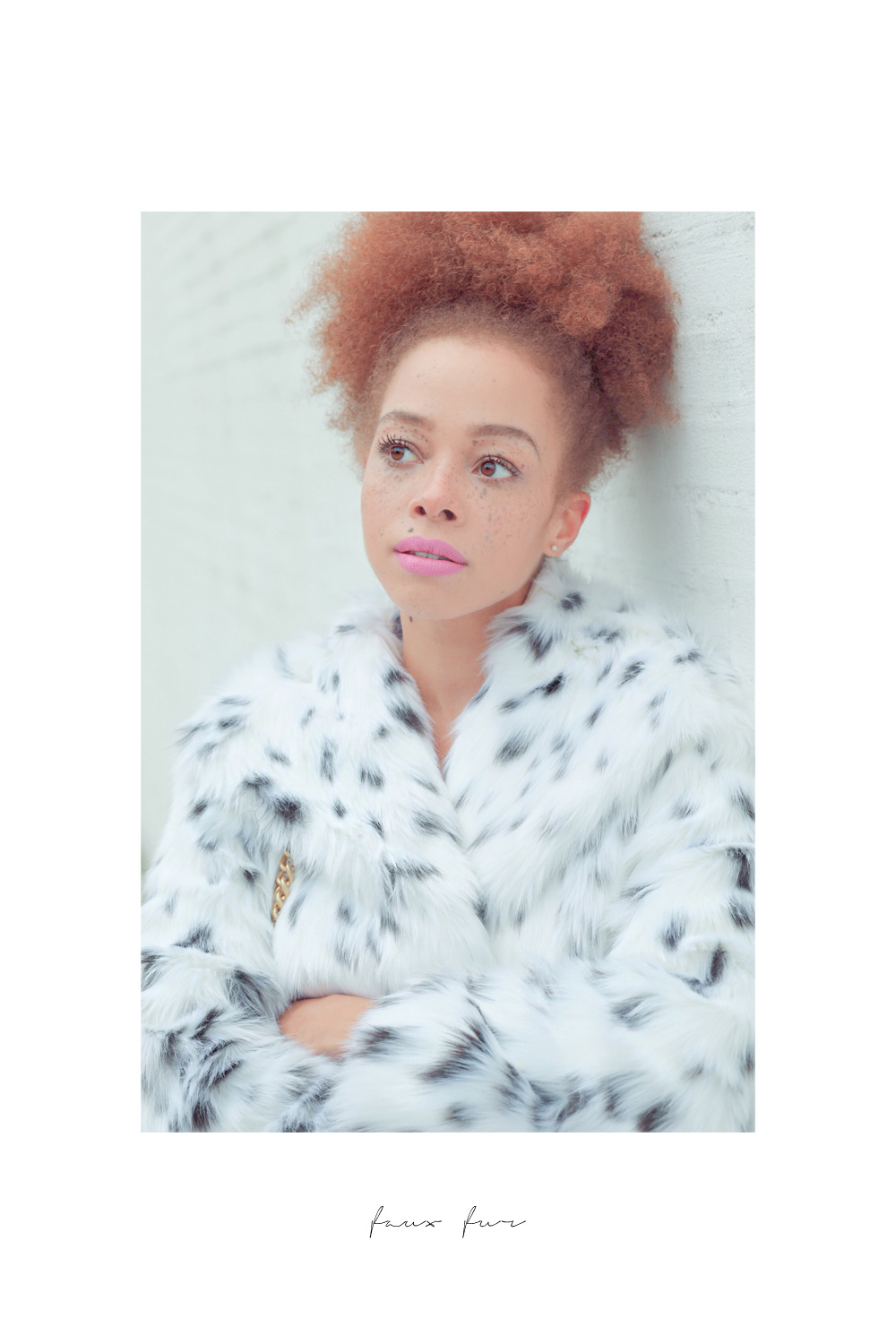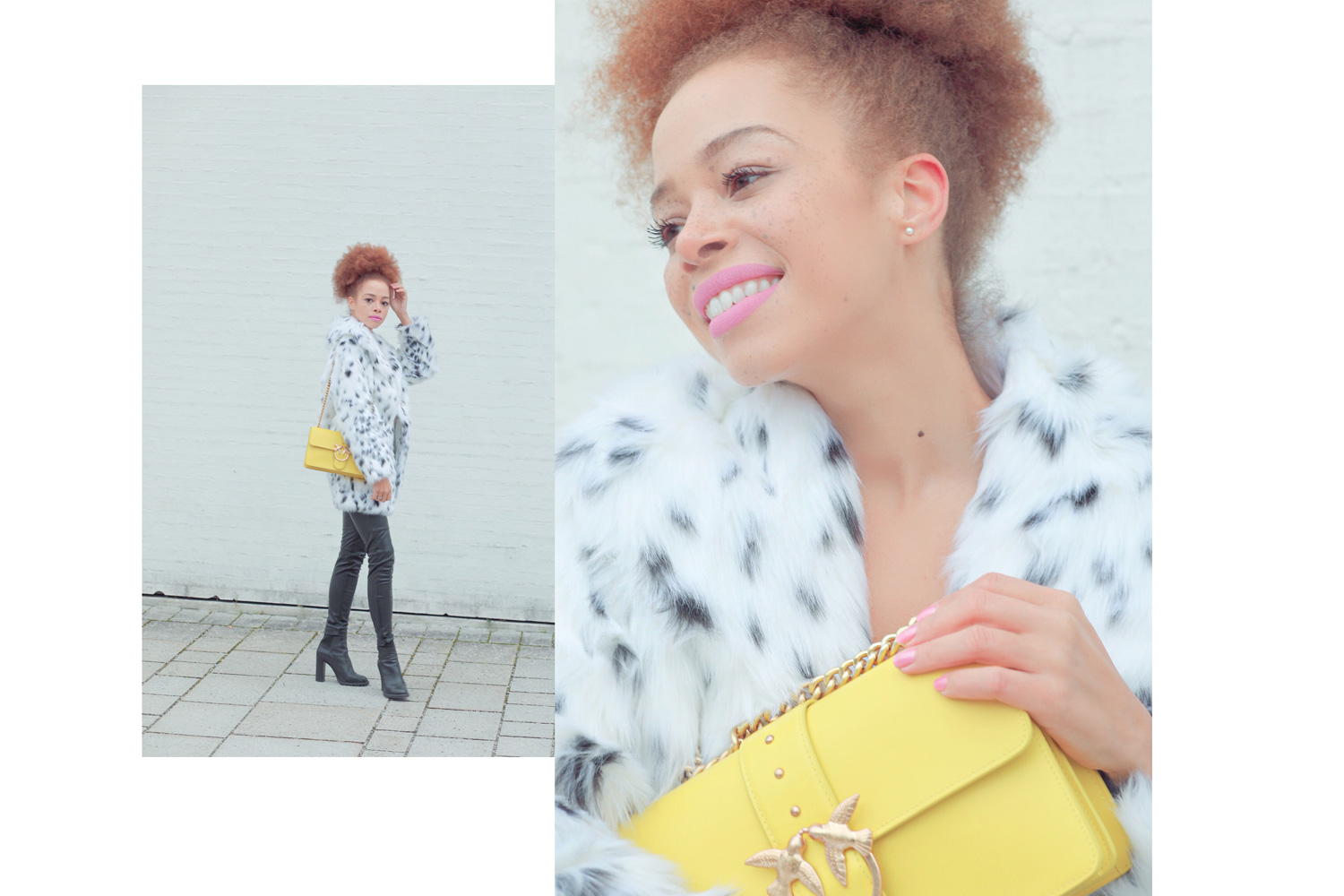 ---
In der Vorweihnachtszeit kuschele ich mich zuhause am liebsten in eine Decke, zünde Duftkerzen an und setze mich mit einer Tasse heiße Schokolade oder Chai Tea Latte und einem Buch vors Fenster. Von dort sehe ich dann den Schneeflocken zu wie sie durch die Luft wirbeln und tanzen. Geht es euch auch so?
Wenn ich in der Winterzeit vor die Tür gehe, möchte ich mich genauso geborgen und schön fühlen … Ich stelle mir dann am liebsten die Filme in Kanada vor. In einer weißen Winterlandschaft durch den Schnee stapfen. Mit einem Mantel, der mich warm hält und in dem ich mich wohl fühle, also von innen und außen. Ich trage gerne schwarz. Aber noch lieber trage ich weiß. Und am liebsten gerade den schneeweißen Faux Fur Mantel mit schwarzen Tupfern. Teddy Mäntel? Ja – aber nein! Jetzt sind Faux Fur Mäntel in besonderen Farben und Schnitten wieder da und ich liebe sie!
Falls du dich also fragst, warum wir diesen Winter an Faux Fur Mänteln nicht mehr vorbeigehen wollen und wie du Faux Fur am schönsten stylst – ich weiß es sieht schwer aus, ist es aber nicht – dann bist du hier genau richtig!
Warum Faux Fur?
– mit Faux Fur bist du nicht nur nachhaltig, du tust auch was für dein Gewissen, denn wir lieben alle Tiere und zwar lebend
– ein Upgrade gefällig? Jetzt ganz leicht, denn mit schön verarbeitetem Faux Fur sieht jedes noch so graue Winter Outfit gleich viel edler aus
– Faux Fur tut vor allem eins, er hält was er verspricht – nämlich dich warm
– wir lieben ihn seit letztem Winter immer noch und jetzt noch mehr, weil es gibt ihn nicht nur in rosa, sondern diesmal in vielen neuen fancy Designs, Mustern und Schnitten
– und letztlich ist Faux Fur nicht nur günstiger, du kannst ihn auch zu fast allem tragen – zu was? Das erfährst du, wenn das Licht angeht – oder du einfach weiterliest
How To Style: Faux Fur 2018?
– mit deiner Lieblingshandtasche!
– auffällige Farben darf man wieder mit auffälligen Farben kombinieren – Pop of Color, you know?
– mit einer (faux) Lederhose oder einer trendigen Cropped Jeans (oder auch Hochwasser-Jeans genannt)
– es gibt keine Grenzen, egal ob du UGG's, Sneaker oder Heels lieber magst, du siehst mit Faux Fur immer preppy und gut gestylt aus – kleiner Tipp: lässig wird der Look mit Sneakern!
– etwas leichtes unten drunter wie Lingerie, da es sonst zu heiß wird und es nicht immer aber oft besser aussieht
Wie gefällt euch der Faux Fur Trend und der winterliche Look?
Ich wünsche euch eine wunderschöne Vorweihnachtszeit und frohe Weihnachten meine Lieben!
HAPPY X-MAS!
JOYEUX NOËL!
FROHE WEIHNACHTEN!
---

(Engl.)

The weeks and days before Christmas I love to cuddle myself in a blanket at home, light up some nice scented candles and sit at the window with a cup of hot chocolate or chai tea latte and a book. There I watch the snowflakes whirling and dancing through the air. Do you feel the same?
When I go out during the winter time, I'd like to feel just as cozy and nice … I picture myself the films in Canada. Stumping through knee-high snow in a white winter wonderland. With a coat that keeps me warm and makes me feel good, so from the inside and outside. I love to wear black. But even more I love wearing white. And above all I love the Snow White faux fur coat with black dabs on it. Teddy coats? Yes – but nah! Now we have faux fur coats in extra colors and cuts again and I love them!
So if you ask yourself why we wouldn't want to pass faux fur coats this winter and how to style faux fur – I know it doesn't seem easy but it actually is – then this is your right place!
Why Faux Fur?
– do something for sustainability and your conscience because we all love animals and we love them alive
– upgrades every darb winter outfit as well handled faux fur always looks precious and nice
– faux fur does one thing, it keeps its promise – as it keeps you warm
– we still love it and love it even more as there are plenty of new fancy designs, cuts and patterns
– and faux fur is not only more favorable, you can pair it with almost anything – with what? Read on!
How To Style Faux Fur 2018?
– with your favorite bag
– you may combine striking colors with striking colors again – pop of color, you know?
– with a faux leather pants or a trendy cropped jeans
– there are no limitations, wether you like UGG's, sneaker or heels more, you always look preppy and fresh with faux fur – my tip: look nonchalant with sneakers!
– something loose like lingerie underneath as it is too hot otherwise and looks better
How do you like the faux fur trend and the winterly look?
I wish you a wonderful pre-Christmassy time and Merry Christmas my loves!
HAPPY X-MAS!
JOYEUX NOËL!
FROHE WEIHNACHTEN!
---
ASOS | Faux Fur Coat, Pinko | Neon Bag, Lipsy London | Camisole Top, HM | Faux Leather Pants, ZARA | Boots, Marc Jacobs | Bracelet, Ring