Das Fashion Week Outfit, das keines war … Die Woche ist wieder genau so schnell vergangen, wie sie begonnen hat. Wie ihr auf Instagram (hier) und Facebook (hier) in meiner Story verfolgen konntet, bin ich die letzten Tage zwischen Shows und Events auf der Berlin Fashion Week AW 2018-19 hin und her gehoppt. Zum ersten Mal habt ihr mich dabei auch mal richtig live gesehen, wie ich mit euch via Instagram spreche. Es ist für mich immer noch ungewohnt und es kostet mich immer eine kleine Überwindung, aber es macht wirklich Spaß und ist schön zu wissen, dass ihr mich so dann auch wieder (wie früher bei Youtube) live erleben könnt.
Berlin Fashion Week 2018
Wie ihr wisst, liebe ich ja die Fashion Week. Man trifft neue und "alte" Gesichter, tauscht sich aus und führt für mich im besten Fall wunderbare, ehrliche Gespräche. Natürlich ist nicht immer alles rosarot. Alles im Leben ist auch mit Hingabe, immer wieder aufstehen, wenn es schwierig wird, und Arbeit verbunden. All die Möglichkeiten und schönen Seiten sehe ich nicht als selbstverständlich. Ich bin einfach immer sehr glücklich und dankbar, dass ich das alles erleben darf. Und ich schätze jede Minute, die ich mit besonderen und tollen Menschen verbringen kann. An solche Momente erinnere ich mich noch lange danach und behalte sie im Herzen. Nicht alles davon halte ich immer gleich für Social Media fest. Aber genau diese Momente machen für mich die Fashion Week aus – und ehrlich gesagt auch das Leben im Allgemeinen.
Lancel Crossbody Bag & Retro Vibes
Was auch zum Leben dazu gehört, ist, dass oft alles ganz anders kommt, als man gedacht hat. Der Look, den ich euch heute zeige, war eigentlich für die Berlin Fashion Week geplant. Aber ich kam doch nicht dazu. Natürlich gibt es das Outfit für euch heute trotzdem. Eine Paloma Picasso Brille aus den 90er Jahren von meiner Mama. Ein aktuell angesagter Flower Print auf dem schönsten goldenen Parka, den ich je gesehen habe. Meine Lancel Schultertasche. Und dazu preppy Blücher Schuhe.
Was sagt ihr zum Look?
Und habt ihr meine allererste Live Story von der Marina Hoermanseder Show auf Instagram gesehen?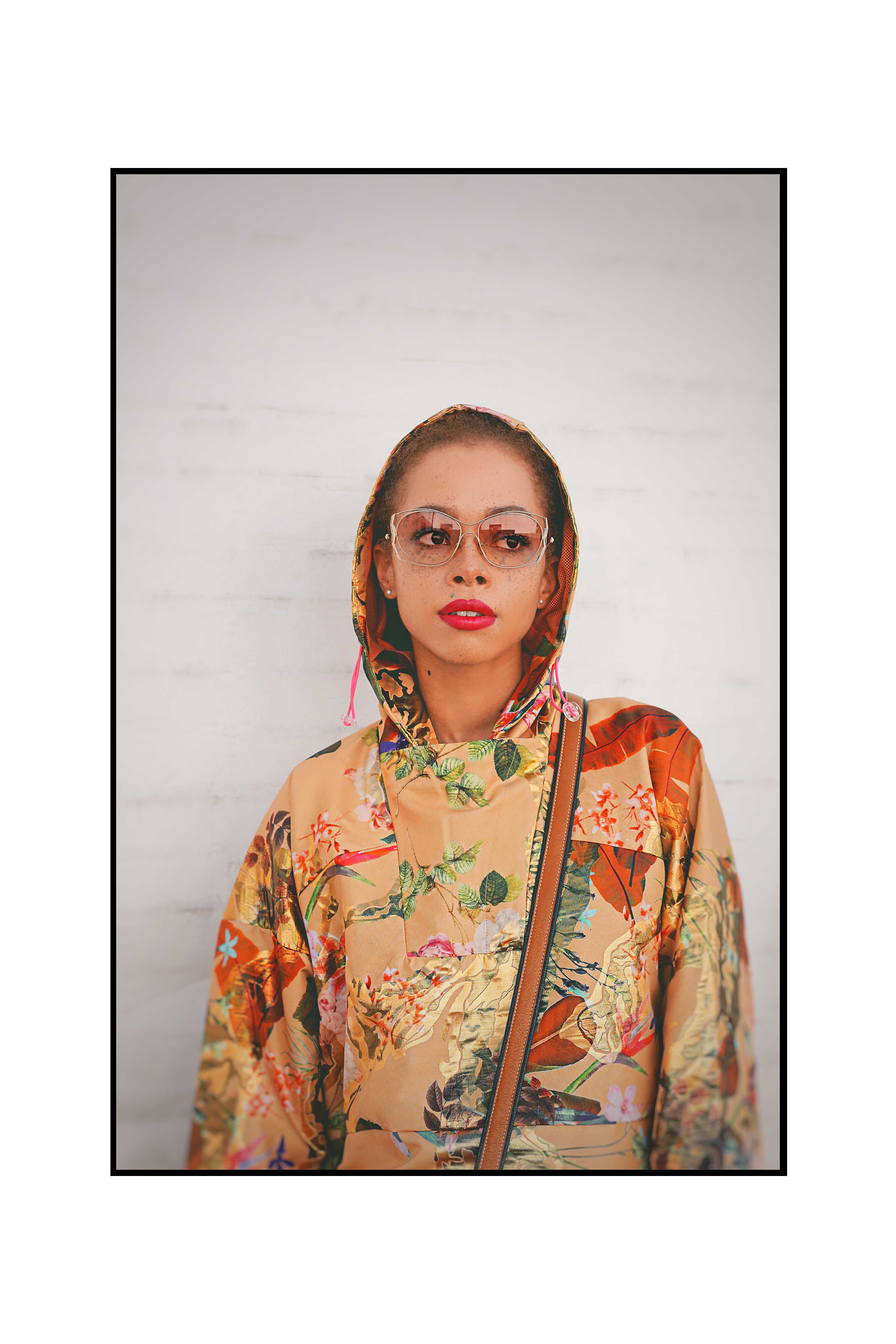 (Engl.)
The Fashion Week look that was not there … The week passed as quickly as it started. As you could see in my story on Instagram (here) and Facebook (here), the last days I hopped from one show and event to another at Berlin Fashion Week AW 2018-19. And it was there where you could see me speaking directly to you via Instagram for the first time. It is still unfamiliar for me and still costs a little overcoming, but it is really fun and good to know that you can see me again live that way (like in Youtube days).
Berlin Fashion Week 2018
As you know, I love Fashion Week. You get to meet new and "old" faces, exchange views and in my best scenario have great and honest conversations. Of course, not everything is pink. All in life is associated with dedication, work and standing up every time we fall and it gets tricky. All the possibilities and lovely parts – I don't take them for granted. I'm just always very happy and thankful that I am able to experience all that. And I appreciate every minute that I can spend with special and amazing people. Those are the moments I will remember long after and keep them in my heart. I don't post all of those on social media. But these are the ones that make Fashion Week for me – and to be honest with you, make life beautiful.
Lancel Crossbody Bag & Retro Vibes
Another thing that I consider part of life, is that sometimes things turn out differently as expected. The look that I show you today e.g. was planned for Berlin Fashion Week. But not a bit of it! Certainly you'll get it nevertheless. Paloma Picasso 90ies retro glasses from my mum. Trendy flower print on the most beautiful golden parka that I've ever seen in my life. My Lancel crossbody bag. And preppy Blucher shoes on top.
What do you think?
And have you watched my very first live story of the Marina Hoermanseder show on Instagram?
---
Lancel | Crossbody Bag, Paloma Picasso | 90ies Sunglasses, ASOS | Flower Print Parka, Marc Jacobs | Bracelet, ZARA | Blucher Shoes