Mein Motto für 2018? Cookies und Eiscreme für alle! Okay, nein. Wäre aber auch mal anzudenken ;) Aber mein Motto für dieses Jahr hab ich mir schon gleich morgens an Neujahr aufgeschrieben. Weil es mich immer wieder daran erinnert, wie ich im neuen Jahr denken und wonach ich leben möchte. Es heißt ganz einfach: yes, we can! Barack wäre stolz auf mich. Aber damit ich auch stolz sein kann, reicht es natürlich nicht, das nur aufzuschreiben. Wir wollen das auch umsetzen. Und wir kennen es alle – am Jahresanfang ist man noch super motiviert: "ab heute lass ich die Oreos und Burger weg", "ich geh jetzt jede Woche mindestens 5 Mal ins Fitness". Und nach kurzer Euphorie hat unser innerer Schweinehund wieder das Kommando übernommen: "heute hab ich Halskratzen", "man muss sich auch mal ab und zu was gönnen" und schwuppsdiwupps sind wir wieder im gewohnten Modus. Damit uns das dieses Jahr nicht mehr passiert, hab ich für euch heute meine hilfreichsten 7 Tipps: so motivierst du dich und erreichst auf kürzestem Weg deine Ziele 2018!
Frohes neues Jahr 2018
meine Lieben!
The only person who will make you happy is yourself.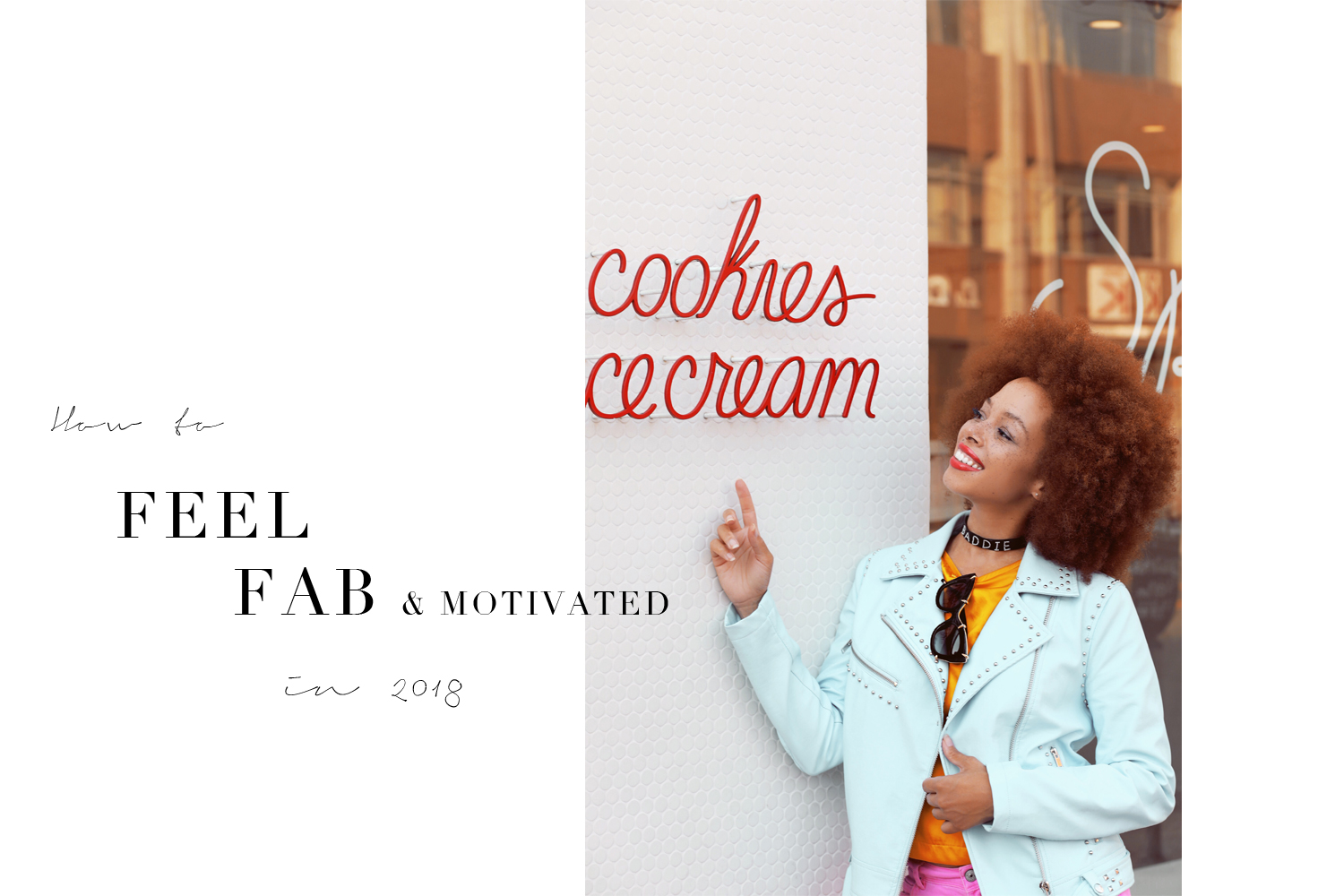 Los geht's mit
7 Tipps:
so motivierst du dich und erreichst deine Ziele 2018!
;) Viel Spaß!
FOCUS: schreib dir deine Ziele auf! Wenn du dein Ziel immer vor Augen hast, ist es leichter, begeistert bei der Sache zu sein. Es ist mehr als okay, wenn du dich dabei nicht ablenken lässt. Wenn du der visuelle Typ bist, mach ein M O O D B O A R D, auf dem du deine Ziele in Bildern aufklebst. Kein Witz, alles, was dir hilft, dich immer wieder an dein Ziel zu erinnern, ist genau dein Ding!

NICHT KLECKERN, KLOTZEN – oder anders: fang einfach an! Reden hilft nicht immer viel und hier gar nichts. Was immer du auch machen willst, B E G I N N E es jetzt! Du hast keine Zeit zu verlieren.

STARTE, WO DU BIST: nach links oder rechts gucken, was andere machen, hat noch niemanden ans Ziel gebracht. Es ist egal, wie weit du bist. Jeder fängt mal irgendwo an. Bleib bei dir und mach einfach dein Ding, dann kommst du Schritt für Schritt immer näher an dein Ziel!

MACH MAL PAUSE: setz dir kleine Zwischenziele auf deinem Weg und belohne dich, wenn du sie erreichst, mit einem Spa-Tag, einem Kinodate mit Freunden oder einem Abendessen mit deinem Freund oder deiner Freundin. So werden viele G L Ü C K S H O R M O N E ausgeschüttet, was dich nicht nur entspannt, sondern auch weiter motiviert!

SEI GUT ZU DIR: ganz wichtig ist, dass du dich selbst nicht unter Druck setzt. Stecke deine Ziele realistisch und nicht zu hoch. Wenn die Ziele unerreichbar scheinen, verliert man sonst schnell die Lust. Sei einfach deine beste Freundin. Du kannst S T O L Z auf dich sein und das, was du erreichst!

KEEP ON MOVIN': nicht aufhören – auch wenn es mal schwierig wird! Wenn auch mal was nicht gleich auf Anhieb klappt, bleib einfach L O C K E R. Es ist noch kein Meister vom Himmel gefallen und beim nächsten Mal wird es schon leichter sein! Höhen und Tiefen gehören auf dem Weg zum Ziel dazu.

Und last but not least: POSITIV DENKEN – nicht vergessen! Alles wird gut!
Jetzt bin ich aber schon sehr gespannt zu erfahren,
was ihr so macht, um eure Ziele 2018 zu erreichen?
Macht ihr den ein oder anderen Punkt vielleicht selbst schon?
Meine Lieben, ich wünsche euch einen wunderbaren Start ins neue Jahr 2018, in dem wir unsere Träume und Ziele wahr machen!
Yes, we can!
---

(Engl.)

My motto for 2018? Cookies and icecream for everyone! Okay, no. But we should consider that as well ;) But I've noted my motto for the new year just in the morning on New Year's Day. As it reminds me consistently how I would like to think and live in 2018. It simply is: yes, we can! Barack would be proud of me. But of course, just to write it down, isn't enough. We want to implement it into our daily lives. And we know it all – at the beginning of the year you are highly motivated: "from today on I say bye to Oreos and burgers", "now I'll go to the gym at least 5 times a week". And after this little phase of euphoria our weaker self has totally taken charge again: "today I feel a tickle in my throat", "a little of what you fancy does you good" and whoosh – we are in our comfy mode again. For that doesn't happen this year, I have for you my most helpful 7 tips how to stay happy and motivated in 2018 and reach your goals in no time!
Happy New Year 2018
my loves!
The only person who will make you happy is yourself.
Let's start with my
7 Tips
how you motivate yourself and reach your goals in 2018!
;) Have fun!
FOCUS: write down your goals! If you always keep your aspiration in sight, it is easier to stay enthousiastic. It is more than okay to do not let yourself be distracted in any way. If you are the visual type, create a M O O D B O A R D on which you paste your goals in pictures. No joke, everything that helps you remember your goal is exactly your thing!

GET IT ON – or else: just do it! You won't get anything done by talking. Whatever you aspire to do, B E G I N it now! You have no time to loose.

START WHERE YOU ARE: looking what others are doing, won't make you cross the finish line. It doesn't matter how far you are. We all start small. Just do your thing and concentrate on your own path, then step by step, you will come closer to your goal!

TAKE A BREAK: set little intermediate goals on your path and spoil yourself when you reach them, with a spa day, a cinema date with friends or a dinner with your boyfriend or girlfriend. Thereby many H A P P I N E S S H O R M O N E S are released in your body. And that will relax and motivate you all at once!

TREAT YOURSELF WELL: most important is that you don't stress yourself too much. Set your goals high, but realistic. You wouldn't want them to seem so unreachable that you loose your courage. Just be your own best friend. You can be P R O U D of yourself and what you are achieving!

KEEP ON MOVIN': don't stop – even if it gets tough some times! If something doesn't work out the first time, take it E A S Y. No master fell just from heaven and next time it will already be easier! Highs and lows are part of the game.

And last but not least: don't forget it's all about POSITIVE THINKING! Everything will be fine!
Now I'm so eager to know what you do to reach your goals 2018?
Maybe you already do the one or the other tip yourself?
My loves, I wish you a wonderful start into the new year 2018, in which we make our dreams and goals come true!
Yes, we can!
---
Sacred Hawk | Choker, ZARA | Crop Top, SheIn | Glasses, Forever21 | Shorts, Faux Leather Jacket
Sprinkles Cupcake ATM, Beverly Hills