Frühlingsgefühle scheinen bei uns in Deutschland gerade wie vom Schnee verweht. Aber keine Sorge Mädels, der Frühling kommt und auch schon sehr bald! Dafür zeige ich euch heute ein paar Trends, mit denen ihr euch jetzt schon in den Stores eindecken und auf die schönste Zeit im Jahr freuen könnt! Wie heißt es noch? Vorfreude ist bekanntlich die schönste Freude! Also, los geht's mit 5 Frühjahrstrends 2018 – kombiniert in einem Look!
So Stylen Wir Uns Im Frühling 2018
Plumetis
Ihr fragt euch vielleicht: Plumetis, was ist das? So nennt man eine Art von hervorgehobener Stickerei, hier auf dem Untergrund eines feinen halbtransparenten Stoffs. Sieht nicht nur sinnlich aus, ist auch ein Hingucker im Frühling und endlich mal was Neues im Kleiderschrank!
Rot und Weiß
Rot und weiß sind wieder die Farben diesen Frühling! Eine Kombi, die Gegensätze verbindet: das unschuldige zarte Weiß und das starke leidenschaftliche Rot mit einem Touch Verruchtheit. Wie gefällt euch die Kombi?
Jeans
Where is my blue jeans baby? Ja! Die könnt ihr jetzt nämlich wieder in allen Formen tragen. All Over Jeans Looks sind nicht nur erlaubt, sondern feiern sogar im Frühling 2018 das Comeback! Wer Anfang 2000 mit Britney keine Baby Blue Jeans Phase hatte, der hat was verpasst und kann es jetzt nachholen ;)
Rüschen
Verrüscht und zugenäht! So präsentieren wir uns im Wonnemonat … Die Designer zeigen uns in den Modewochen überall: Rüschen sind nicht von gestern, sondern auch was für uns Powerfrauen und -mädels von heute! Passend zum Women's March und der Sexismus-Debatte brauchen wir unsere Weiblichkeit nicht mehr länger verstecken. Im Gegenteil. Im Frühling lassen wir unseren Gefühlen so richtig freien Lauf! Rüschen sind was für Pussies? Ja! Genau richtig.
Dots
And last but not least: Dots. Oder auch Polkadots genannt. Wie wir wollen. Punkte machen uns glücklich. Also mich jedenfalls. Wir tragen sie deshalb egal wo. Und egal wann. Auf dem Kleid, auf Socken (wie hier auf meinen preppy weißen Socken von ONYGO)* und auf Hosen. Sie bringen gute Laune in die Bude. Also dürfen sie erstmal gerne bleiben.
Was ist dein Lieblingstrend für den Frühling?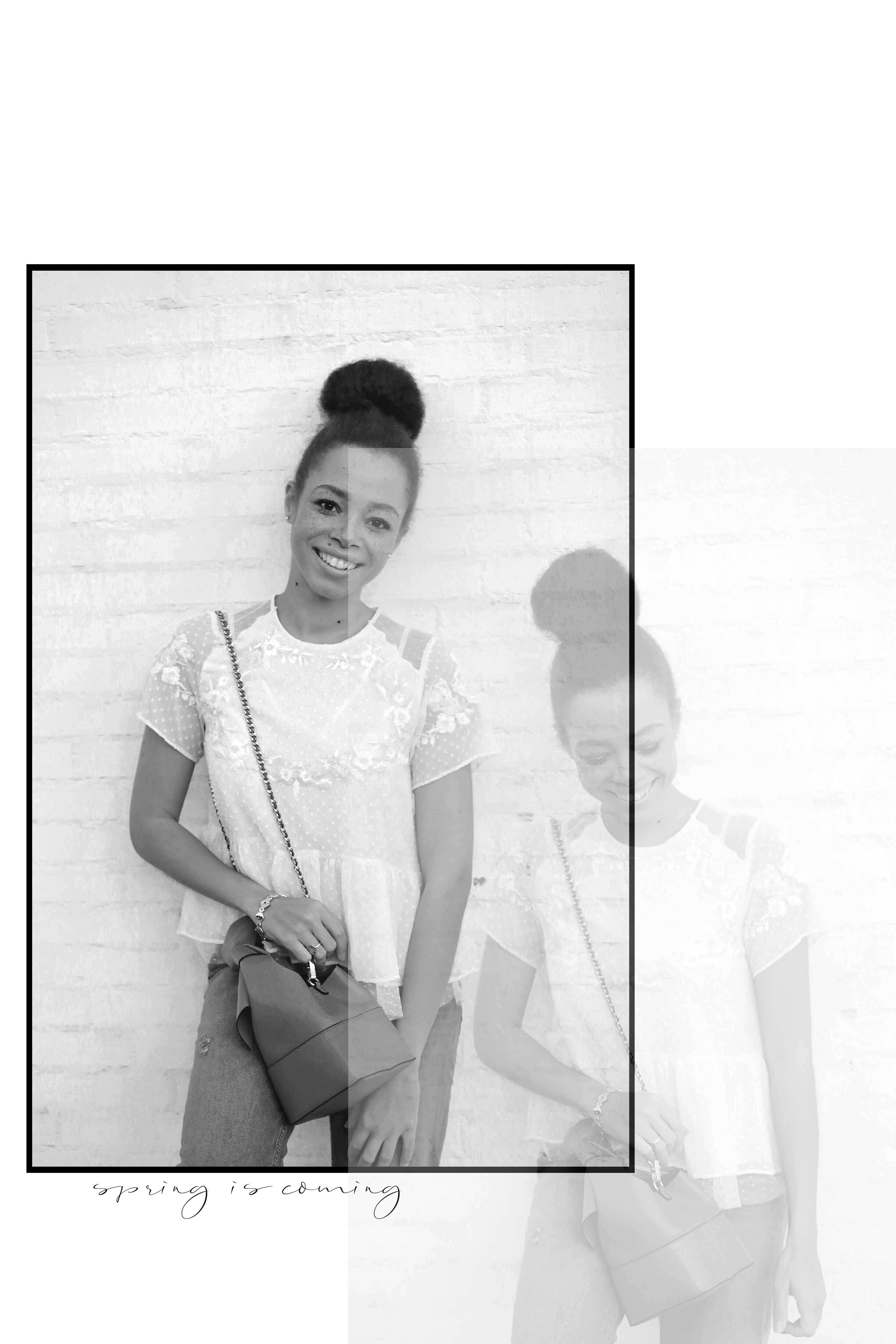 Oh, Spring!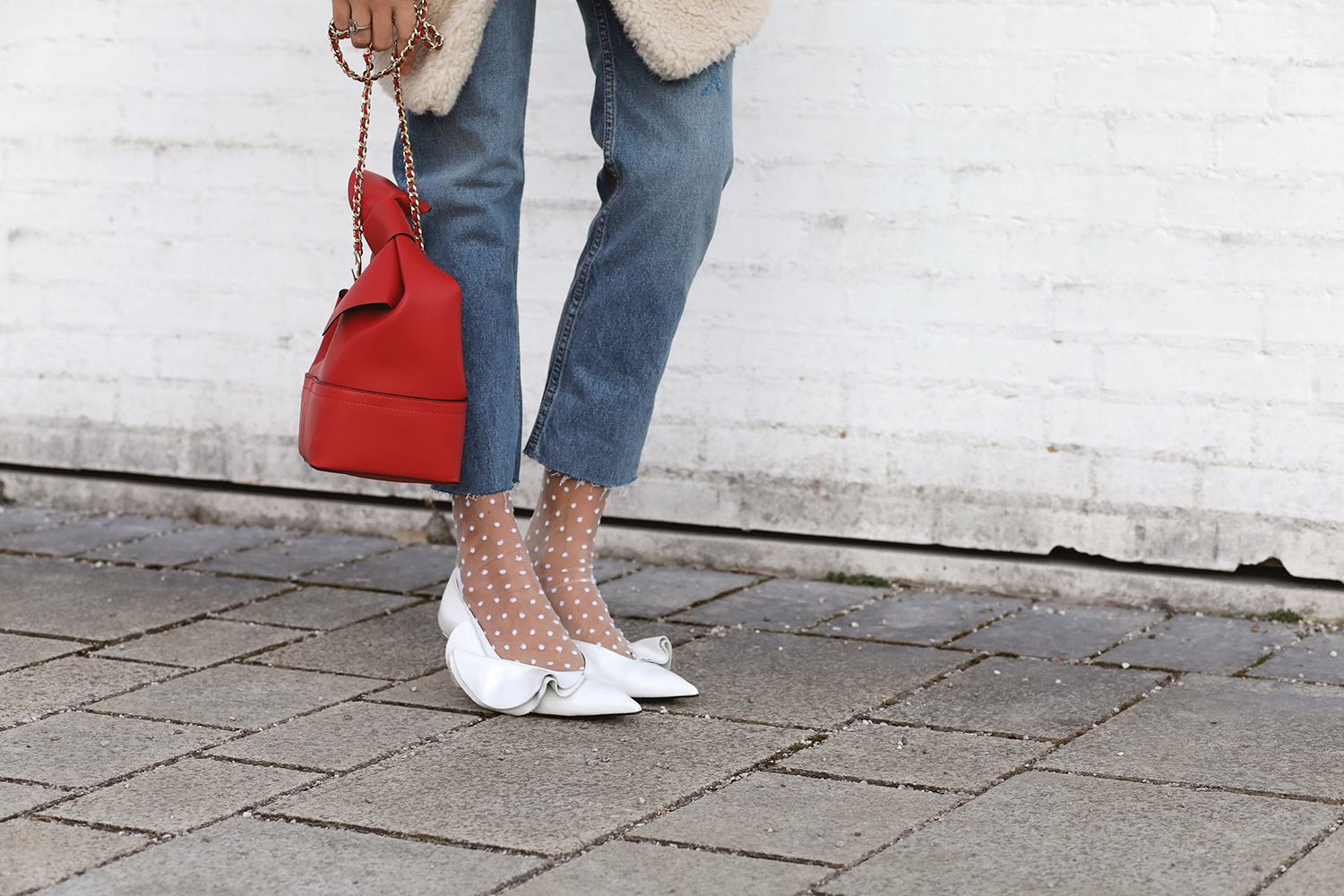 (Engl.)
Here in Germany spring feelings are gone with the snow for now. But no worries girls, spring is already on its way! Therefore I'll show you today a few trends that you can already shop in the stores – and will make you feel good in a minute! How do they say? Anticipation is the greatest joy! So, let's get it on with 5 trends how to style for spring 2018 – combined in one look!
How To Style For Spring 2018
Plumetis
You may ask yourself: plumetis, what is that? That is a type of emphasized embroidery, here on the ground of a fine semi-transparent fabric. It looks sensual. Further it's an eyecatcher in spring and finally something new in our closet!
Red and White
Red and white are the colors this spring! A combination that joins opposites: the innocent tender white and the strong passionate red with a touch of sin. How do you like the mix?
Jeans
Where is my blue jeans baby? Yes! You can wear those again in all kinds now. All over jeans looks are not only allowed, but also celebrate a comeback this spring 2018! Who hasn't had a blue jeans baby thing going on like Britney in the early 2000's. Not you? Then you definitely missed something and can catch up now! ;)
Ruffles
Ruffled! That's how we roll in merry month … Everywhere during fashion weeks the designers show us: ruffles weren't born yesterday. Ruffles are a thing for us power women and girls today. In the context of Women's March and sexism debate we don't need to hide our feminity any more. Au contraire. We free our emotions this spring! Ruffles are for pussies? Yes! Spot-on.
Dots
And last but not least: dots. Or called polka dots. As we like. Dots do make us happy. Certainly me. That is why we wear them anywhere. And anytime. On dresses, on socks (like here on my preppy white socks by ONYGO)* and on pants. They put us into a good mood. So why not let them stay for a while.
What is your favorite fashion trend for spring?
---
Marc Jacobs | Bracelet & Ring, ONYGO | Socks (*PR Sample), ZARA | Embroidered Plumetis Top, Bag, Mom Jeans, Pumps
// PR SAMPLE