Attract what you want by being what you want.
The last days I was reminiscing about how easily life can be shifted by rather small or rather big events, encounters, what you read, what you experience, what you do. So it's up to you to choose wisely what you want to experience and how you want to think. You attract what you put your heart and mind onto. I truly believe that everyone of us has the ability to change their life by changing the way we think. Just putting on some different glasses from time to time, gives us the opportunity to see more and grow. Another perspective.
And focus on what's most important. Our hearts. Focus on the good.
I needed some rest for a long time. And I am finally giving myself now. As a virgo you are always on the run. And me energy ball especially. And that is when it's most important to listen to your inner voice and give yourself some space to think, to fuel yourself with good energy. We should always strive to be in line with our inner golden balance. As being mindful of our feelings is what makes us happy and fulfilled.
The month of August is my favorite month this year. It was warm and like a summer breeze. You are feeling like on an island here in Munich. In Munich, can you imagine? But yes, I am feeling that way. I enjoy the cars rushing by, the girls in her favorite dresses running down the street with lots and lots of pastel icecream (my favorite ones in Munich at the moment are Cookie Vanilla from Der verrückte Eismacher & die Isarnixe and Salted Caramel and Peanut Chocolate from Gecobli by the way). The relaxed bikers passing by (normally they are always in a hurry), the Little Italy feeling in the old city with enchanting secret gardens and pompous walls, the surfers at the Eisbach wave. Even the crowds walking through Englischer Garten. You wouldn't recognize, I marvel at my home city above all during this time of the year.
As the holiday season is not over yet, I've picked some of my favorite bikinis for you. It is a wish list and inspiration board as I'm not going to purchase all of them, of course ;) But that is a proper selection of what I would recommend to style during the hot days and on vacation.
Let me know which one of these is your favorite! What do you enjoy most during summer in your city?
first look
// HM bikini, white w/ triangle cup and striped cut-outs (here)
// Exo Eyewear sunglasses Lula, see-through (here)
// Karl Lagerfeld t-shirt, white w/ logo print (here)
second look
// Hunza G bikini Collette, sand w/ neck holder (here)
// Chimi Eyewear sunglasses Peach 003 w/ rose gold mirror (here)
// Mango cotton bag Caspiog (here)
third look
// Faithfull The Brand bikini Lara and Elsa w/ polka dots (here)
// Exo Eyewear cat eye sunglasses, black (here)
// Oysho box bag, raffia (here)
fourth look
// Faithfull The Brand bikini Behati and Candice, sand bandeau (here)
// Asos retro sunglasses, white cream (here)
// Mango cotton bag Caspiog (here)
// no ad // no affiliate links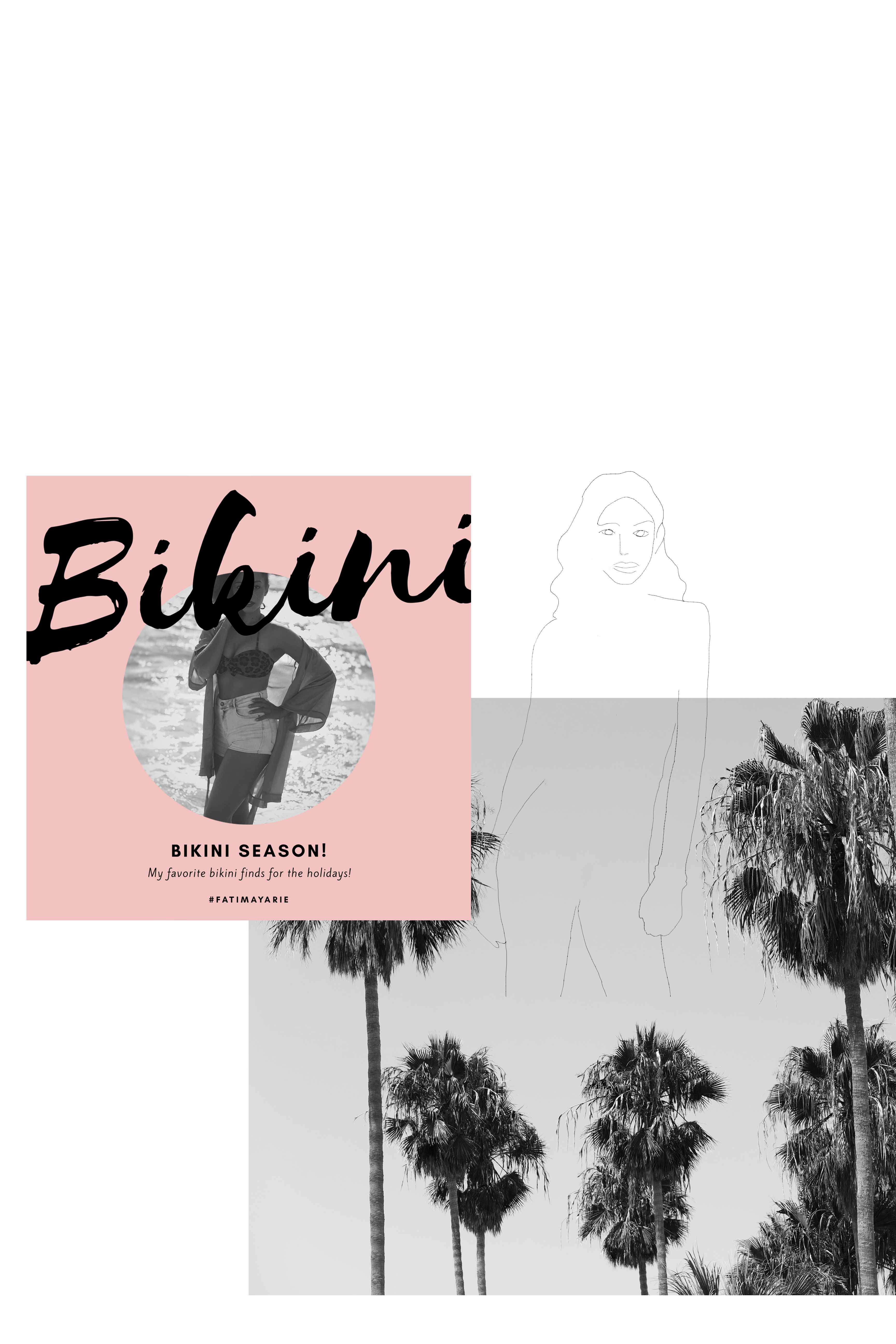 (Dt.)
Ziehe an, was du möchtest, indem du das bist, was du möchtest.
Die letzten Tage ist mir durch den Kopf gegangen, wie leicht unser Leben von kleineren oder größeren Ereignissen bewegt werden kann, von Begegnungen, davon, was du liest, was du erlebst und was du tust. Also liegt es an dir, dich immer weise dafür zu entscheiden, was du erfahren und wie du denken möchtest. Du ziehst das an, was du mit dem Herzen und dem Kopf verfolgst. Ich glaube daran, dass jeder von uns die Fähigkeit besitzt, sein Leben zu ändern, wenn wir unser Denken verändern. Manchmal eine andere Brille aufzusetzen, gibt uns die Möglichkeit, mehr zu sehen und zu wachsen. Eine andere Perspektive.
Und uns auf das zu fokussieren, was am Wichtigsten ist. Unser Herz. Auf das Gute.
Schon eine Weile brauchte ich ein bisschen Erholung. Und ich schenke sie mir jetzt. Als Jungfrau ist man immer auf dem Sprung. Und besonders ich Energieball. Und gerade dann ist es am Wichtigsten, auf seine innere Stimme zu hören und sich selbst etwas Raum zu geben, zum Nachdenken und um gute Energie zu tanken. Wir sollten immer danach streben, mit unserer inneren goldenen Balance im Einklang zu sein. Weil es uns einfach glücklich und zufrieden macht, wenn wir mit unseren Gefühlen achtsam umgehen.
Der Monat August ist mein Lieblingsmonat dieses Jahr. Er fühlte sich warm an, wie eine Sommerbrise. Du fühlst dich hier in München wie auf einer Insel. Kaum zu glauben, oder? In München! Aber ja, genau so fühle ich mich gerade. Ich liebe die vorbeifahrenden Autos, Mädels, die in ihren Lieblingskleidern die Straße runterlaufen mit ganz ganz viel Eiscreme (meine Lieblingssorten in München sind dieses Jahr übrigens Cookie Vanille vom Verrückten Eismacher & die Isarnixe und Salz Karamell und Erdnuss Schokolade bei Gecobli). Die vorbeiziehenden entspannten Fahrradfahrer (normalerweise sind sie immer in Eile), das Little Italy Gefühl in der Altstadt mit zauberhaften geheimen Gärten und pompösen Häuserwänden, die Surfer bei der Eisbach Welle. Selbst die Menschenmengen, die durch den Englischen Garten wandern. Kaum zu merken, wie sehr ich meine Heimatstadt gerade in dieser Zeit des Jahres anhimmele.
Da die Urlaubszeit noch nicht vorbei ist, habe ich für euch ein paar meiner liebsten Bikinis 2018 rausgesucht. Es ist eine Wunschliste und soll inspirieren, da ich natürlich nicht alle kaufen werde ;) Aber es ist eine gute Auswahl, was ich empfehlen würde, was wir während der heißen Tage und im Urlaub stylen können.
Lasst mich wissen, welcher Bikini euch am besten gefällt! Was genießt ihr in eurer Stadt im Sommer besonders?
erste Kombi
// HM Bikini, weiß mit Triangle Cup und gestreiften Cut-Outs (here)
// Exo Eyewear Sonnenbrille Lula, durchsichtig (here)
// Karl Lagerfeld T-Shirt, weiß mit Logo Print(here)
zweite Komi
// Hunza G Bikini Collette, sandfarben mit Neckholder (here)
// Chimi Eyewear Sonnenbrille Peach 003 mit roségoldener Spiegelung (here)
// Mango Baumwolltasche Caspiog (here)
dritte Kombi
// Faithfull The Brand Bikini Lara und Elsa mit Polkadots (here)
// Exo Eyewear Cat Eye Sonnenbrille, schwarz (here)
// Oysho Korbtasche aus Raffiabast (here)
vierte Kombi
// Faithfull The Brand Bikini Behati und Candice, sandfarbenes Bandeau (here)
// Asos Retro Sonnenbrille, cremeweiß (here)
// Mango Baumwolltasche Caspiog (here)
// keine Werbung // keine Affiliate Links